Sony's Android-powered projector arrives in US (but ouch, that price)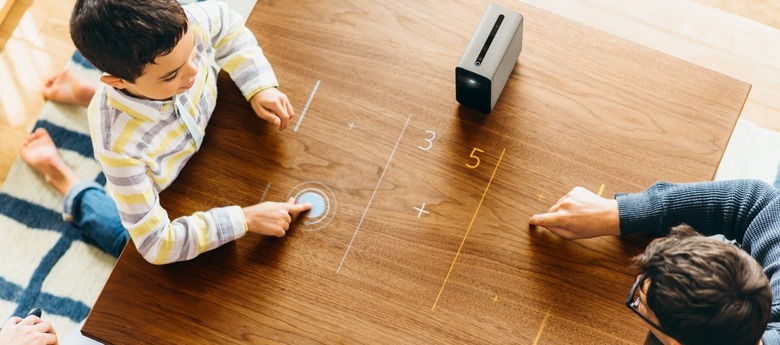 Sony's Xperia Touch has arrived in the US, with the unusual Android-powered projector promising interactive entertainment – at a price. Spawned from a concept design, the Xperia Touch uses an ultrashort-throw laser projection system to create a 23-inch virtual touchscreen. Sony expects it to be used for playing multimedia, making video calls, and interacting with social networks.
The magic is really in the new interaction system. Though the Xperia Touch itself is only 5.6 x 5.3 x 2.7 inches, it uses nifty folded optics to create a much larger projection image. Usually, it's intended to project a 23-inch virtual touchscreen onto a wall or table, recognizing 10-point multitouch at the same time.
However, it can also expand that projection up to 80-inches, if you want to use it for movie playback or streaming Netflix or YouTube. All the same, this probably won't replace your dedicated home movie theater projector, with its 1366 x 768 resolution.
There are built-in stereo speakers, and Sony says the projection's auto-focus means you won't be twiddling a dial to get a clear view. Brightness is 100 lumens, automatically adjusting to suit the ambient light conditions, while the contrast ratio is 4,000:1. You'll need a power outlet nearby, though, since the battery will only last for around an hour of continuous video playback.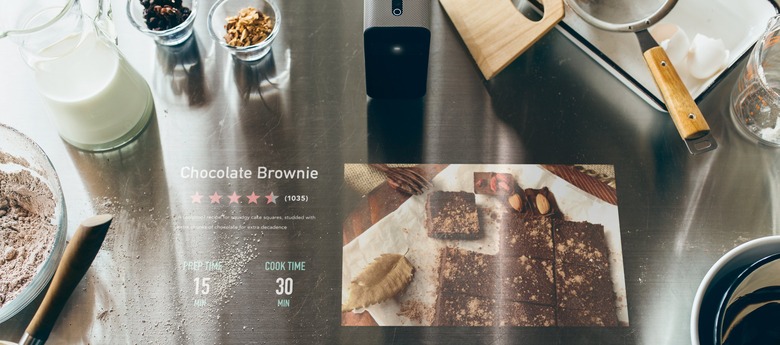 Exactly what you can do with the projected touchscreen varies. Beyond video playback, there's a 13-megapixel camera that can be used for video calling, and there are games that can convert your kitchen table into, say, an air-hockey board. A full browser and all the usual Android apps mean just about anything you could do on a tablet can be done at a larger scale with the Xperia Touch.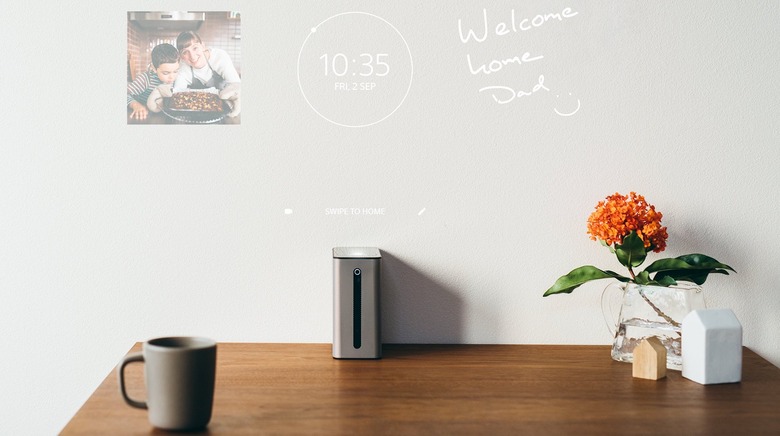 Courtesy of a presence sensor, you can use the projector as a family hub, automatically turning on when it spots movement and showing the group calendar, messages, and other details. Alternatively, there's an HDMI connection along with USB Type-C, so you can plug in an external source. Wireless connectivity includes WiFi a/b/g/n/ac, Bluetooth 4.2, NFC, and support for Miracast streaming.
However, while this all might sound experimentally-interesting – and, indeed, something you'd be curious to try out for yourself – there's a catch. Turns out, putting a clever short-throw projector, movement tracking, and all the other hardware into a small package like this isn't cheap. The Sony Xperia Touch is priced at a not-inconsiderable $1,699.99 from Amazon along with select T-Mobile and Sony stores in the US.