Sony Xperia teaser hints at big changes at MWC 2018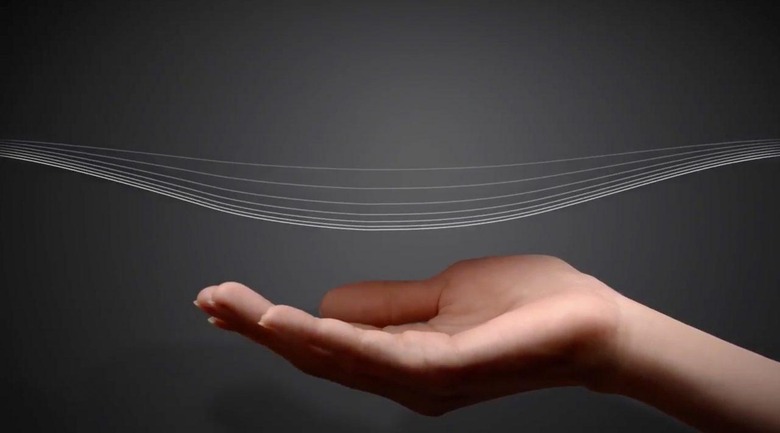 MWC 2018 is almost upon us, and though we've pretty much seen what the Galaxy S9 will look like, Sony's Xperia efforts at the show are a lot more mysterious. The phone-maker has had mixed results with its Android devices in recent years, at least when it comes to the US. Still, a new Xperia teaser suggests it could be worth paying attention to Sony in 2018.
Like the best teasers, Sony doesn't give everything away in one fell swoop. Indeed, as pre-reveal campaigns go, this one is positively surreptitious. A stretching bow of sinuous waves flows down from the top of the screen, onto an outstretched hand, with nary a display, artful phone chassis corner, or anything else in sight.
Still, that's not going to stop us from speculating as to what the whole thing might mean. Arguably top of the list of possibilities is a change to the industrial design language that Sony has been sticking to for the past several generations of Xperia. That's been singularly blocky and angular, in the face of rivals' curves, and while Android aesthetics are a matter of taste there's no denying that a rounded handset generally feels better in your hand than a squared-off one does.
Alternatively, though, the curves could have a more specific meaning than just a design change. Sony might be joining the curved screen bandwagon, adopting a flexible display that wraps around the edge of its new Xperia phones. Another possibility is the so-called 2.5D glass that we've seen other manufacturers use, where the edges stand proud of the smartphone's fascia and have an almost meniscus-like profile that smoothly tapers into the rest of the chassis.
Then again, perhaps these ripples are just what they hint at: sound waves. Sony has played up the connection between its smartphones and its well-esteemed BRAVIA television display technology before now, borrowing elements from its big-screen TV panels to include on the far smaller LCDs in its Android devices. Now, it could be the turn of its sound bar speakers to donate some tech, perhaps bringing Dolby Atmos to its phones.
Of course, there are more esoteric possibilities too. The waves could indicate a new type of haptic feedback, perhaps, using targeted vibrations to give the feeling of physical buttons and controls in precise locations on the touchscreen. It could even refer to some combination of all of the above, or more.
We'll know for sure come Mobile World Congress in just a week's time, though previous rumors have led us to expect the Xperia XZ Pro to take center-stage. Sony's big reveal will come on February 26, 2018, and we'll have all the news for you as it's announced.
Join us. 26.02.2018 #SonyMWC pic.twitter.com/n6IQ82XRVZ

— Sony Xperia (@sonyxperia) February 19, 2018