Sony XPERIA Tablet S Review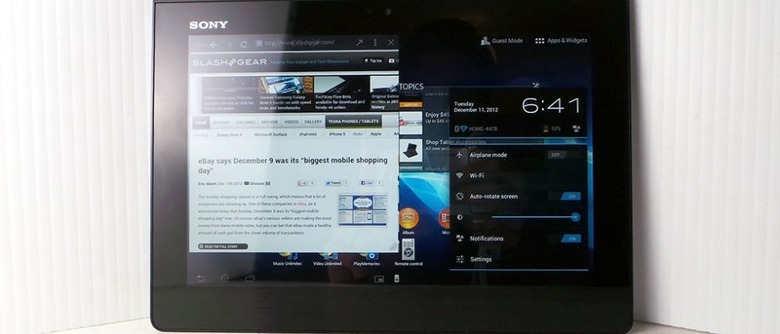 It might be time for you to take another look at one of the oddest tablets released in the year 2012, that being the quad-core NVIDIA Tegra 3 processor-packing Sony XPERIA Tablet S. This machine is not the most high-resolution nor the most undeniably powerful tablet machine on the market, but given its connectivity options and its existence in the Sony ecosystem, might it be the perfect tablet for your Sony-loving self? If the connections don't convince you, the folded-over magazine shape just might.
Hardware
This machine thrives on the unique nature of its shape – there's really no other device like it when it comes to it's back, it having the look of a book folded over. Because of this shape you've got a couple of pocket-like crevices where a microphone hole, notification light, power, and volume can sit on one side while a headphone jack and full-sized SD card slot can sit on the other. The folded-over portion of the tablet is a hard plastic with a slight dotted 3D pattern on it while the rest of the back of the device is cold metal.
As a reminder – this isn't the first time we've seen this form factor, but it is the first time we've seen this unique device. The Sony Tablet S was released all the way back in 2011 while this new device, the XPERIA Tablet S is on the market now. Have a peek at our Sony Tablet S Review from back in August of 2011 for comparison purposes – that looks RATHER similar to this, but the two are, in fact, different in several ways.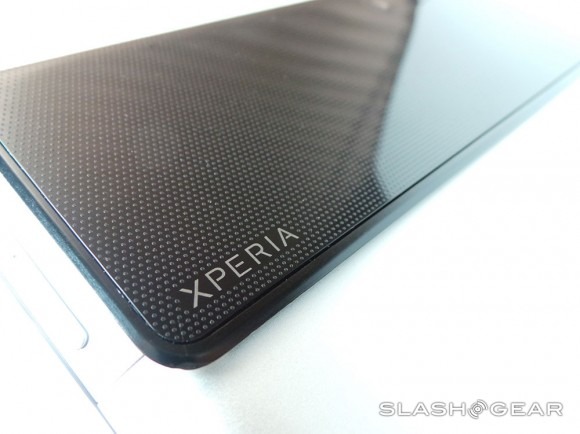 On the bottom of the back of the device you've got a Sony proprietary port for power that's massive enough to work with a Sony-made dock that'll hold this machine aloft. There's also a couple of back-facing speakers that are rather healthy in their ability to blast sound, but like all back-facing speakers are not up to the task of facing down into your lap – imagine that!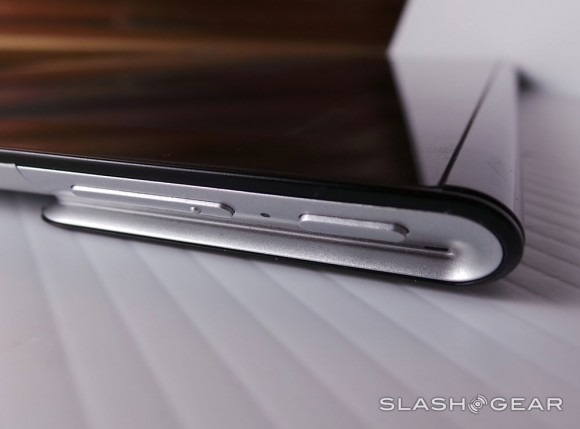 The back also has a relatively lovely-seeming 8 megapixel camera that's OK when you've got perfect lighting conditions. The camera software inside this machine bring the device's cameras on front and back up to "fun" levels but do not generate photos that you'll be wanting to print – social networking grade they are!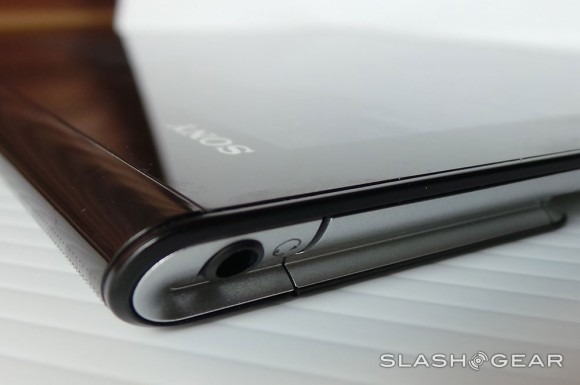 This machine also has an IR blaster so you can connect to your television for basic channel changing and volume adjustment with the Remote control app that also comes with the device. With universal remote access you'll also be able to turn on more than one device at a time, audio systems, DVD players, and TVs included, and not just limited to Sony brands. Sony is making a big push for this device to be the center of your living room and makes it so with not just remote control connectivity, but Sony-branded music and videos available for purchase as well.
Software
You've got Android 4.0 Ice Cream Sandwich here on the Tablet S complete with a user interface that adds on a set of buttons and shortcuts on to the basic Google homescreen. On the bottom of the display you've got a quick shortcut to the Remote Control which opens as a window that can float above whichever app you're in at the pressing. The same is true of the shortcuts bar directly to the left of the remote control that'll lead you to miniature versions of your Web Browser, Calculator, Memo, Sound Recorder, Remote Control (again), and Timer – there's also a "Clip" shortcut that lets you take screenshots on the fly.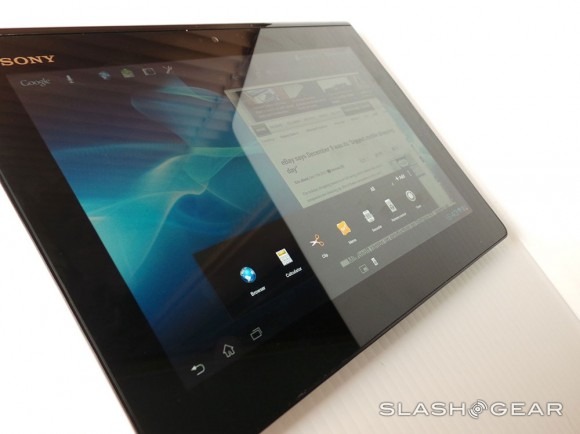 Sony adds a collection of their own apps to this machine that include a Sony vision for the photo album, movies, ereading (with connectivity to the "Reader" collection of books), Walkman (showing your music on the device and Sony-purchased music), Sony Select (shortcut to the website), and Socialife (for social networking). You can also connect to Music Unlimited from Sony, Video Unlimited, and PlayMemories (collecting your photos into digital albums for sharing with the web).
You'll also be able to switch between users if you're going to be passing this device around from family member to family member, "Guest Mode" allowing you personalized configurations (before Android 4.2 Jelly Bean gets here with Google's version of this functionality), including wallpaper, app, and widget differentiation.
You've got connectivity to PlayStation Mobile and Xperia link, as well. The promise that you'll be becoming part of the Sony universe here, including the PlayStation ecosystem, is met about half-way because of the relative lack of big-name game support that Android has seen centralized in the PlayStation brand. This means that while there have been some big releases from developers that've made their name on PlayStation in the past on Android today, they've done these releases in a wide way – not just limited to the Sony universe. You can get Grand Theft Auto's two first biggest open-world hits on the Google Play app store right now no matter what device you've got, Sony or no.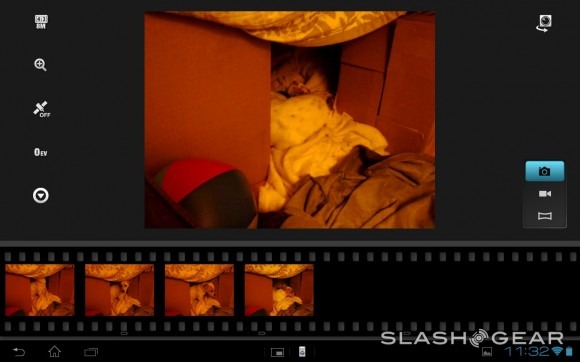 If you're part of the Sony universe already – that is if you're paying for Music Unlimited and Movies Unlimited and also have a PlayStation and want to make the most of it all with a tablet form-factor, by all means, purchase the Sony Tablet S. There are some Sony televisions that even connect with this tablet to bring you detailed information on media you're watching on the big screen – if you've got that hardware, this may very well be the device you need to bring your experience up to the next level.
Above you'll see some standard benchmark results as well as an astounding battery readout. As with all of the devices on the market with the NVIDIA Tegra 3 quad-core processor inside, this device has fantastic standby-time as it utilizes NVIDIA's 4-PLUS-1 technology – in this case that means that the "ninja" core (there's 5 cores inside the processor in this device, not just 4) works for low-power tasks and makes the time the display is off a time that the device isn't hounding power – as it should be!
Wrap-up
If you're looking for a great stand-alone Android tablet, this isn't it – it wasn't made to be the one perfect stand-alone tablet and it doesn't pretend to be that piece of equipment. Instead you've got the best Sony has to offer in a tablet form-factor, and with a quad-core processor from NVIDIA to back it up, it's perfectly capable as a Sony companion for the rest of your Sony devices.