Sony Xperia Tablet revealed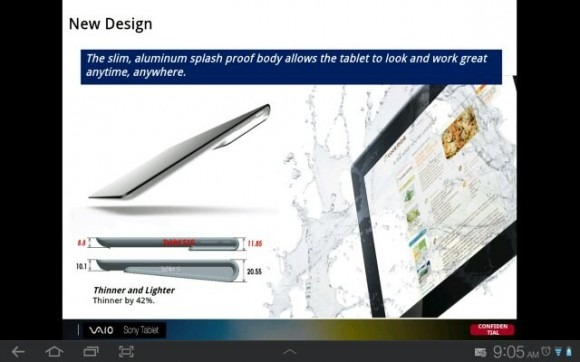 Sony's next Android slate, the Sony Xperia Tablet, has been spotted in a set of leaked presentation slides, a slimline and splashproof Tegra 3 model with a 9.4-inch 1280 x 800 display. The Xperia Tablet SGPT1211 keeps the folded-paper profile of its Tablet S predecessor but trims it down to 11.85mm at its thickest according to mobiFlip's premature documentation; overall, it's 42-percent thinner, Sony claims, and made of aluminum rather than plastic.
Inside there's NVIDIA's latest quadcore chipset, a choice of 16GB, 32GB or 64GB of storage, and a 6,000 mAh battery good for up to 10hrs of WiFi browsing, double what Sony promised from the Tablet S. Connectivity includes WiFi a/b/g/n, Bluetooth 3.0 and (likely optional) 3G, along with an SD card slot and headphone socket. The 3G models have A-GPS, while the WiFi-only models get S-GPS. Both have ambient light sensors, gyroscopes, a digital compass and an accelerometer.
Unsurprisingly, Sony is pushing multimedia and gaming for the new Xperia Tablet. There's no integrated HDMI output – instead you get an optional HDMI dongle that plugs into a special expansion port – but there is DLNA streaming and PlayStation Certification for games, along with a clever docking station with integrated speakers.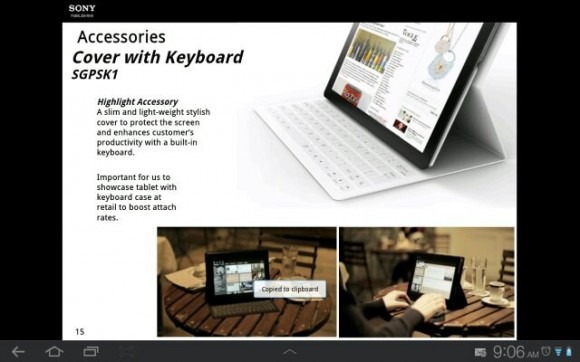 The 8-megapixel main camera is joined by a 1-megapixel front facing camera, and there's also a docking stand with three USB ports and an HDMI connection. Sony also throws in a clever Guest Mode, which allows for a separate interface – with limited access to apps and other data – for visitor use of the tablet, while keeping full Ice Cream Sandwich functionality locked away.
Other accessories include a regular carrying case and a keyboard case, which both props up the Xperia Tablet and offers easier text entry. A USB Host cable will allow external devices – such as full-sized keyboards – to be plugged in.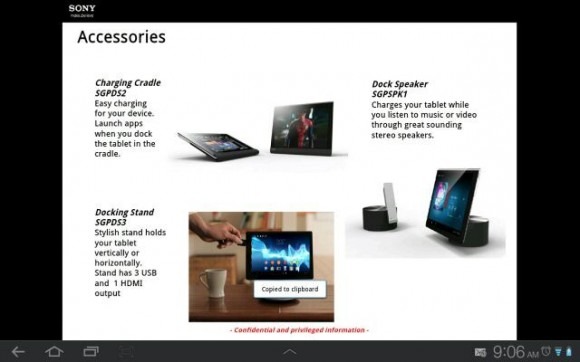 According to the presentation, the Sony Xperia Tablet will go on sale from $449.99 for the 16GB model, rising to $549.99 for the $32GB, and $649.99 for the 64GB. The carrying cover will be $59.99 ($20 more for the leather version) and the keyboard cover will be $99.99.
As for docks, the Dock Speaker will be $119.99, the Docking Stand $99.99, and the Cradle $39.99. A Simple Stand – propping the tablet up at a choice of three angles – will be $24.99. The HDMI cable will be $29.99 and the USB Host cable $19.99.
[via The Verge]