Sony Xperia i1 "Honami" specifications leak with Bionz processor

The Sony Xperia i1 "Honami" is believed to be the Xperia Z's successor, and we've seen it in bits and pieces in a few leaks over the weeks. Earlier today, we saw a hint that the device may be launched later this year, and now purported specifications for the smartphone have surfaced over on the Chinese website ePrice.
According to the leak, the Xperia i1 will feature a 1/2.3-inch 20-megapixel Exmor RS sensor, which is at odds with the previous 1/1.5 to 1/1.6-inch sensor that has cropped up in older leaks. In addition to the Exmor RS sensor, there's also said to be a G lens, while under the hood there's reportedly a Bionz image processor, which can be found in some of Sony's digital cameras.
In addition to the reported camera specifications, there's also said to be a 5-inch full HD display, as well as a 2.2GHz Qualcomm Snapdragon 800 quad-core processor, as well as 2GB of RAM and 16GB of internal memory. In addition, there's said to be a microSD expansion slot, with the maximum supported capacity not being specified.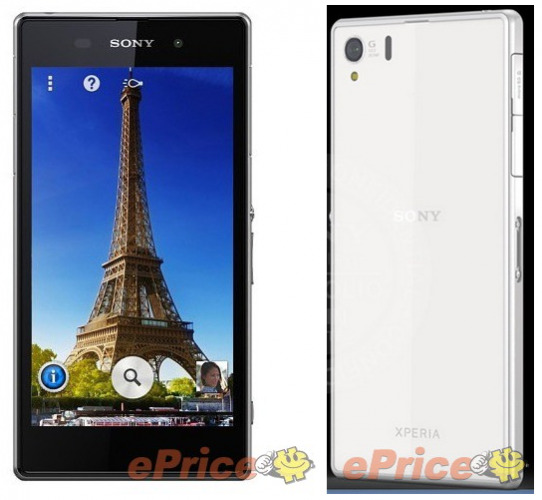 As far as being waterproof and dustproof, the Xperia i1 handset is said to meet IP55/IP57 international standards, giving it the same water-resistant feature of the Xperia Z. The battery is reportedly built into the device, suggesting it won't be user replaceable, with a large capacity of 3,000 mAh battery,
As far as design goes, you can get a look at it yourself in the image above, which has been leaked before and is in line with the design featured in other leak images said to be of the device. There are some pretty large bezels on the handset, but the overall design is comparable to that of the Xperia Z currently available.
SOURCE: ePrice