Sony XB 'Extra Bass' headphones announced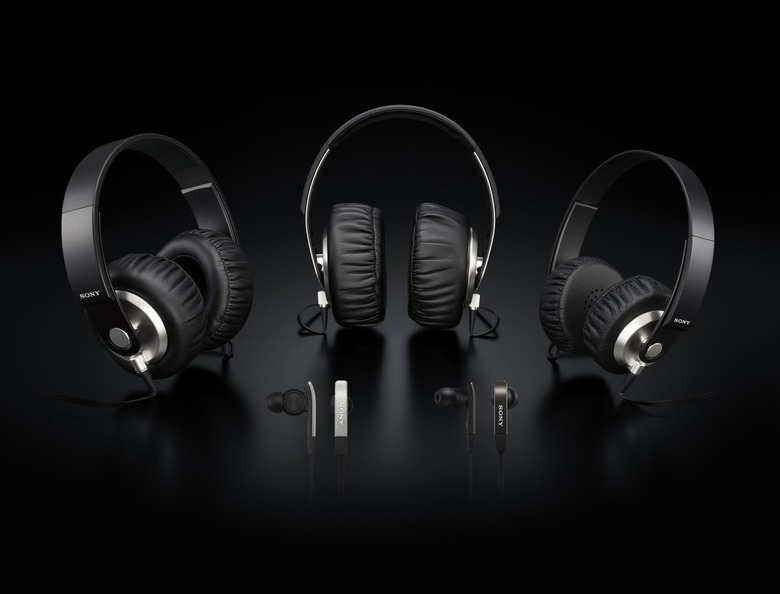 Sony have unleashed a new five-strong range of headphones, designed for listeners who like a little extra boom in their bass.  The Sony XB Series – the XB standing for "extra bass" – consists of three over-the-ear style headphones and two in-ear style, with brushed metal accents and exclusive low-frequency drivers.
Top of the range are the closed-back MDR-XB700 headphones, with extra-large 50mm dome-type drivers, "king sized" synthetic leather ear cushions and an extra-wide headband to spread out their weight.  Meanwhile the in-ear MDR-XB40EX and MDR-XB20EX both have a 'direct vibe' acoustic design, with the former also getting a vertical driver and new flat-section cord.
The Sony XB Series headphones will go on sale from March 2009.  Sony are yet to reveal pricing for the range.
Press Release:
How low can you go:

XB series headphones by Sony deliver the lowest ever bass

o Unique design recreates club ambience with powerful, ultra-low bass response

o Exclusive driver unit reproduces low frequencies accurately

o King size ear cushion (MDR-XB700/500/300) and wide headband for maximum wear comfort

Hip-hop? Dubstep? Drum'n'bass? Whatever you're into, there's a new range of headphones from Sony for music lovers with tastes that go a little deeper.

The dramatically styled new XB series creates a heavy club vibe with rich, powerful bass you can really feel. Standing for "eXtra Bass", the new XB range accurately reproduces ultra-low frequencies without compromising crystal-clear midrange vocals and high frequency sounds.

The five-model XB range is headed by the closed-type MDR-XB700. This premium headphone features innovative Sony technologies that take you straight to the heart of the dancefloor.

Inside, there's a rugged, extra-large 50mm dome-type driver that effortlessly reproduces pristine ultra-low frequencies. Optimised bass performance is balanced by clear, uncoloured reproduction of high- and mid-frequencies for a rich, satisfying soundscape.

As you'd expect from Sony, styling is as striking as the sonic performance. Sumptuously crafted from synthetic leather, the king-sized ear cushion (MDR-XB700/500/300) reduces sound leakage for fat, booming bass with excellent sound isolation. The unique urethane cushion spreads pressure evenly, providing comfortable wear over extended listening periods.

Complementing the king-sized ear cushion, a wide headband features a new 'seamless' design for cutting-edge looks plus extra wear comfort.

Also available, the in-ear MDR-XB40EX and MDR-XB20EX deliver seismic bass thanks to an innovative 'direct vibe' acoustic design that minimises sound spillage. The innovative vertical driver orientation (with MDR-XB40EX only) delivers clear, powerful audio with extended bass without compromising listening comfort.

Brushed aluminium accents (with MDR-XB40EX only) and a durable new flat-section cord add the final touches to this distinctive, highly desirable range of headphones.

The XB series of headphones with Extended Bass is available from March 2009.