Sony Walkman E440 and B140 arrive in UK this month

Sony UK have announced two new Walkman PMPs, the E-series and formerly Japan-only B-series.  The Sony E440 is set to take on the iPod nano, with a 2.0-inch QVGA display, 9.3mm thick chassis and Clear Audio technology which promises to reduce left/right stereo leakage between the channels together with control low-end bass without distortion.
Meanwhile the B140 – which was launched in Japan back in June - has a slimline USB key form-factor and a compact monochrome display.  It has five switchable equalizer modes, bass boost and music-synchronized LEDs, together with Sony's ZAPPIN mode which plays a few seconds of each track from within, not at the start of, each song.
The E440 is available in 4, 8 and 16GB capacities, while the B140 comes in 2 and 4GB versions; both have an FM radio and voice recorder function, together with being able to record from the radio.  The B140 boasts 18hrs of playback, with a 3 minute charge good for 90 minutes runtime, while the E440 can play music for 30hrs or video for 6hrs, with an 80-percent recharge in 45 minutes.  No word on pricing for the UK, but they'll arrive in stores from the end of July.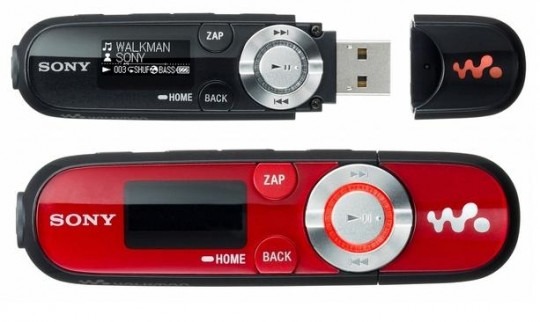 Press Release:
Great Looks. Long, Easy Listening

WALKMAN® E Series Video MP3 players

– Slim, light Digital Media Player in choice of Black or Red

– Clear Stereo and Clear Bass technologies for superb sound quality

– High resolution QVGA 2" Colour LCD screen

– Support for video file format conversion(1)

– Long battery life up to 30 hrs(2) audio / 6 hrs(3) video

WALKMAN® B Series MP3 players

– Small, Ultra-light player in choice of four colours

– Easy operation with drag-and-drop file transfers

– ZAPPIN(TM) for quick, easy song searches

– Bass button for powerful low frequency enhancement

– 18 hr music playback and Quick Charge battery

– FM tuner with recording facility

WALKMAN® E Series Video MP3 players

The slim, chic new WALKMAN® E440 Series is a perfect introduction to the amazing world of WALKMAN® sound and video quality.

Just 9.3mm thick and available in black and red, the super-compact WALKMAN® E Series slips easily into a pocket or bag. Despite its small size, it's packed with serious features to enhance enjoyment of your personal media collection.

The generously-sized 2-inch QVGA Colour LCD screen offers a crisp, detail-packed view of videos, photos, album art, playlists and other functions.

As you'd expect from WALKMAN®, the E Series is packed with unique Sony sound enhancement features for a more satisfying listening experience.

It's the first E series WALKMAN® to feature Clear Audio technology by Sony for a dynamic, detail-packed soundstage. Clear Stereo reduces leakage between left and right channels, while Clear Bass delivers powerful, controlled low-end frequencies without distortion.

There's also a 5-band equaliser to fine-tune your listening enjoyment. In addition, a Dynamic Normalizer balances volume levels between songs ensuring a smooth, comfortable listening experience.

Importing music, video and photos is quick and fuss-free, with simple drag-and-drop from your PC's media folder or via iTunes(4) 8.1 using Content Transfer.

A range of major music and video formats are supported including rights-managed WMA and WMV. In a Sony WALKMAN® first, there's now support for video file format conversion via the supplied Content Transfer software.

For even more listening choice there's a high quality FM radio tuner. Broadcasts can be recorded at the touch of a button, to enjoy whenever you want.

Great sound and smart features are teamed with extra-long battery life. The WALKMAN® E Series delivers up to 30 hours of music or 6 hours of video playback on a single charge — more than enough entertainment for the daily commute or short trips away.

WALKMAN® B Series MP3 players

Perfect for today's active lifestyles, the ultra-compact new WALKMAN® B140 Series teams hot styling and stunning value with unmatched WALKMAN® sound quality.

Striking looks are enhanced by a choice of four appealing colour options with co-ordinated headphones. Black, red and pink finishes are the perfect match for this season's hot VAIO® Type C and Cyber-shot(TM) S Series models.

Despite its tiny size, you'll enjoy a generous 18 hrs music playback time. And if you are in a hurry, a 3-minute charge is all that's needed to power up for 90 mins of listening(5).

You don't even need a computer to load up with your favourite tunes. The WALKMAN® B Series connects via USB to micro/mini audio systems that support USB Mass Storage Management and Ripping/Up-Streaming.

Hook up the WALKMAN® B Series via direct USB connection to the computer. Then import your chosen music tracks via simple drag-and-drop file transfers.

Sound quality more than lives up to the Sony WALKMAN® legend. There's a choice of five selectable equalizer modes to flatter any listening preference. If you want to go deeper, low frequencies are boosted at the touch of the BASS boost button combining with illuminating LEDs that pulse with the music.

It's also the first B series WALKMAN® that simplifies music searches when you need to focus on other activities like sports. ZAPPIN(TM) is a unique Sony feature that plays a few instantly-recognisable seconds from within each song. It's a great alternative to conventional track searches, where it's often hard to identify a song from the opening few bars.

B140F models feature an FM radio tuner, plus a tuner Rec function for recording your favourite broadcasts to listen to later.

Both B and E Series come with a range of accessories to complete the experience. A lightweight sports armband for B Series allows music freedom when working out. For E Series, the accessories include the GU50 Speaker Dock, a universal sports armband and Silicon Cases for protection.

The WALKMAN® E Series Video MP3 players and WALKMAN® B Series MP3 players are widely available from end July 2009.

Catch up on latest WALKMAN® news, images and chat at the official Facebook fan page: www.facebook.com/walkman.

Specifications table

Features B140 Series E440 Series

————- ———————- ——————————-

Capacities 2, 4 4, 8, 16

(GB)

————- ———————- ——————————-

Audio formats MP3, WMA MP3, WMA, AAC-LC*2, Linear PCM

————- ———————- ——————————-

Video formats N/A AVC baseline(H.264/AVC),MPEG-4,

Windows Media Video 9

————- ———————- ——————————-

Photo format N/A JPEG

————- ———————- ——————————-

Colours Pink, Orange, Black and Red

Red, Black

————- ———————- ——————————-

FM tuner/REC Yes (F models only) Yes

————- ———————- ——————————-

Voice Rec Yes Yes

function

————- ———————- ——————————-

Sound effects Bass : Direct bass 5 Band Equalizer + Clear Bass:

enhancer, 5Band Heavy/POP/Jazz/Unique/Custom1

equalizer : Heavy/POP/ /Custom2 settings

Jazz/Unique/Custom1/ Clear Stereo

Custom2 settings Dynamic Normalizer

————- ———————- ——————————-

Playback time Approx. 18 hours Music : Approx. 30 hours

* MP3 128kbps *MP3 128kbps

Video : Approx. 6 hours

*MPEG4 Simple Profile 384kbps

————- ———————- ——————————-

Display 3 line LCD 2.0 inch colour QVGA LCD

————- ———————- ——————————-

Supplied Headphones (MDR-E804Y) Headphones (MDR-E804YLP 105cm

accessories Quick Start Guide Black)

USB Cable (1m)

Attachment (for connection to

optional accessories)

"Content Transfer" in built-in

memory

Quick Start Guide

————- ———————- ——————————-

Recharge 3 minute Quick charge 80% Recharge: Approx. 45 min/

Time for 90 minutes Full recharge: approx. 2 hours

playback

Full recharge:

Approx.70 min

————- ———————- ——————————-

Dimensions Approx. W23.6 x H86.0 Approx. W44.0 x H86.8 x D9.3 mm

x D14.5mm

————- ———————- ——————————-

Weight Approx. 26g Approx. 54 g

Environmental Info

Sony is engaged in a constant review of its manufacturing, operational and business practices to ensure that its products are developed in an environmentally responsible way.

This approach can broadly be divided into three areas:

Product

– Halogenated materials can pose a risk to the environment if disposed of

improperly. To minimize this risk, halogen-free flame retardants are

used for certain printed circuit boards.

Process

– The extended user manual is provided electronically on CD-ROM to reduce

paper use.

– Product packaging is made from 100% recycled paper to reduce the impact

on the environment. VOC (Volatile Organic Compound) — free vegetable

oil based ink is used to print the carton

Planet

Sony is determined to lead the way as a responsible manufacturer, and as a

result we are focussing on three key areas of investment:

1. Reducing CO2 gas emissions

2. Increasing the percentage of renewable energy used in manufacturing

facilities

3. Minimising the resources used by our factories in manufacturing

About Sony:

Sony manufactures audio, video, communications and information technology products for the global consumer and professional markets. With its music, pictures, game and online businesses, Sony is uniquely positioned to be one of the world's leading digital entertainment brands. Sony recorded consolidated global annual sales of EUR 54.4billion (yen 7,730 billion) for the fiscal year ended March 31, 2009, based on an average market exchange rate for the same period of yen 142.0 to the EUR. It employs approximately 171,300 people worldwide. In Europe, the Sony Group recorded consolidated annual sales of EUR 14.0 billion (yen 1,987.7 billion) for the fiscal year ended March 31, 2009.

For more information on Sony Europe, please visit http://www.sony-europe.com and http://www.sony-europe.com/presscenter

"Sony"and "WALKMAN®" are registered trademarks or trademarks of Sony Corporation. All other trademarks are trademarks or registered trademarks of their respective owners.

(1) If users have decoder software, other video formats can be converted

(2) Music : MP3 128kbps

(3) Video : MPEG-4 Simple Profile 384kbps

(4) iTunes is a trademark of Apple Inc., registered in the U.S. and other

countries

(5) This is when "Power Save Mode" is set to "Save on Super," LED is set

to "LED OFF," the sound quality setting(Equalizer/Bass) are not in use
[via Electricpig]