Sony Vision-S is a surprise car showcase of automotive tech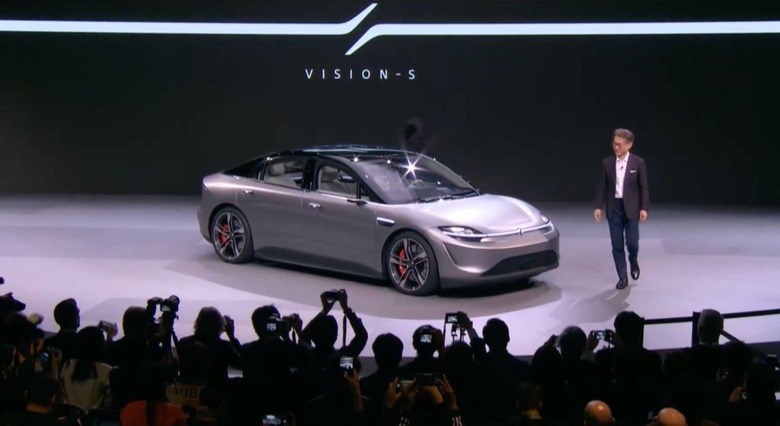 Sony has built a concept car, the Sony Vision-S, to demonstrate the way its sensors and other technology can be turned to automotive applications and prove once and for all the CES really is turning into a car show. A surprise unveil at Sony's press conference at CES 2020, the Vision-S is a rolling test-bench for the company's efforts in safety, electrification, and entertainment.
Indeed, you could think of the Vision-S as being an electric shopping list that Sony is hoping automakers and Tier 1 suppliers will decide to buy from. Sony sensors are already on the road in a number of vehicles, but as advanced driver assistance systems (ADAS) and – eventually – autonomous cars become commonplace, cars and trucks are going to require even more of them.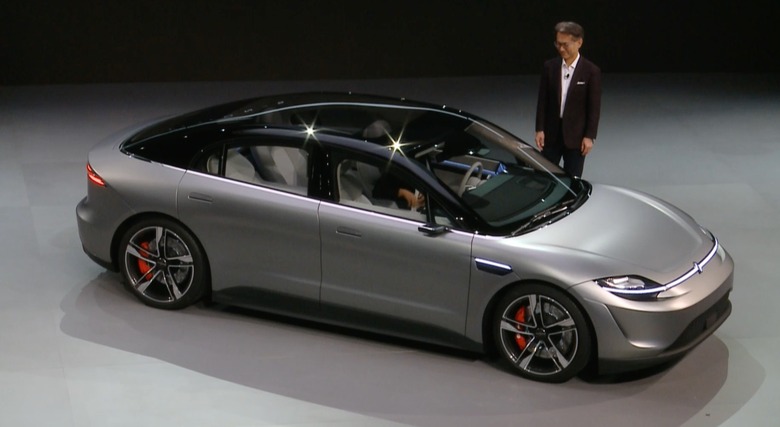 So, Vision-S has a full 33 sensors installed, monitoring both the inside and the outside of the vehicle. Some are used for safety features, like obstacle and pedestrian avoidance avoidance, while others will integrate with the infotainment system.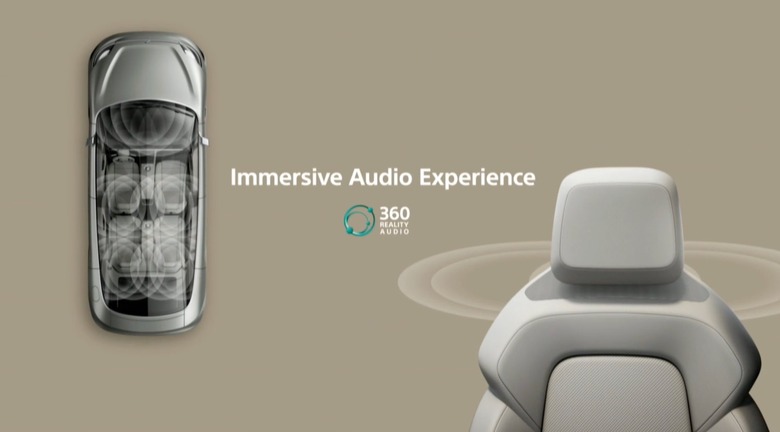 That system also cherry-picks from the best of Sony's various divisions. There's 360-degree Reality Audio, for example, taking advantage of the closed cabin to surround passengers with sound. Screens galore, too: a full-width display for the dashboard, and then a second panel in the center console, plus a further two touchscreens for the rear seat passengers.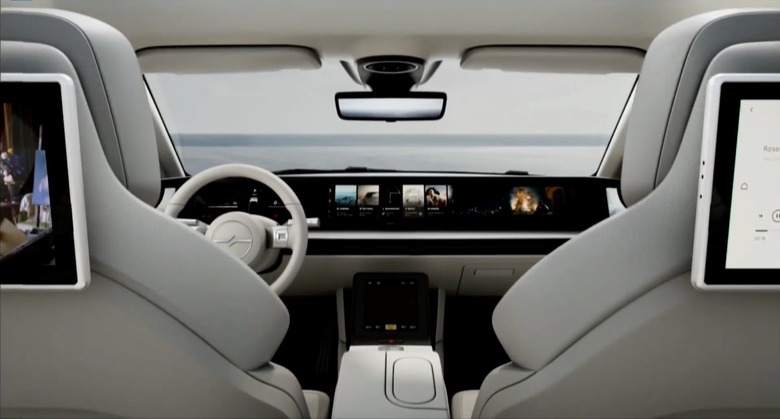 As you'd expect it's electric, and there Sony has turned to another partner for help. The platform was co-developed with industry heavyweight Magna, with Sony CEO Kenichiro Yoshida suggesting that as well as the Porsche Tascan-like Vision-S concept shown today, it could be used for other vehicle types such as an SUV. No word on things like power or range, but it's worth noting that Magna announced last year it was working on a new electric motor design that would be half the cost of existing motors, but with eight times the power density.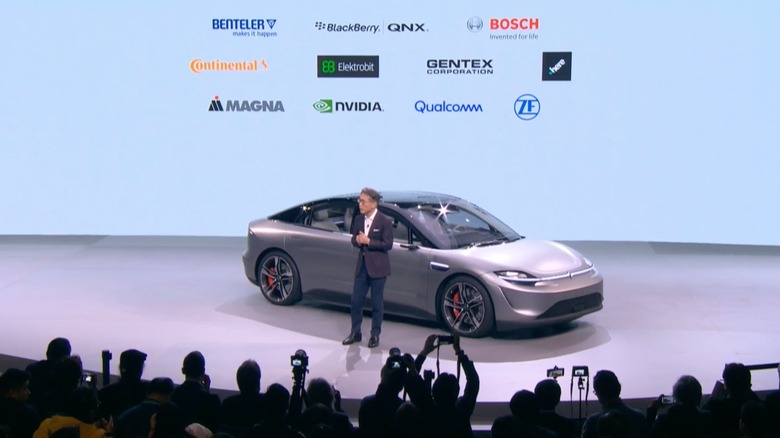 Other partnerships, meanwhile, include BlackBerry QNX – which likely powers the dashboard software – plus Bosch, Qualcomm, NVIDIA, Continental, HERE, Elektrobit, Gentex Corporation, ZF, and Benteler.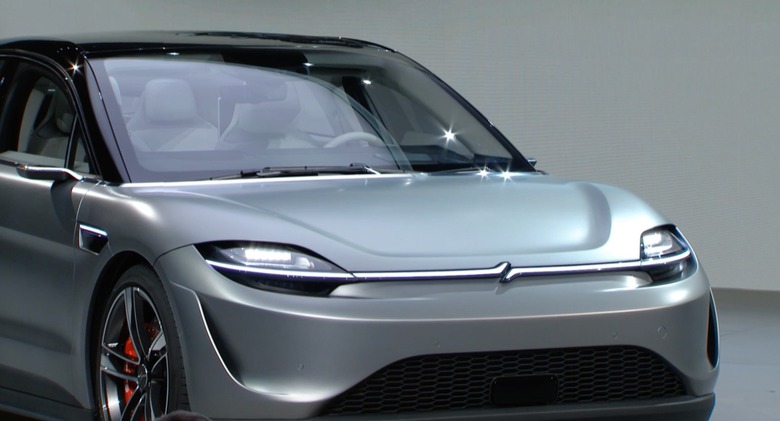 There's a fully-connected system underlying the car's propulsion and infotainment, which is always on for over-the-air updates and more. Sony didn't mention autonomous driving, but it's fair to assume that the Vision-S has features like adaptive cruise control and maybe highway assistance using cameras to monitor attention rather than demanding the driver keep their hands on the wheel.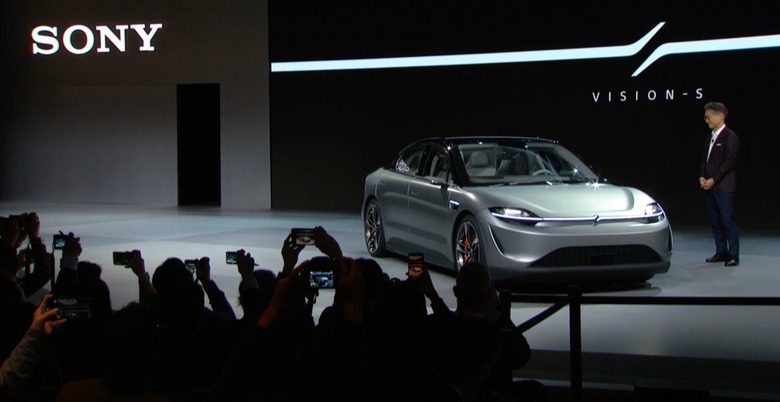 What seems unlikely is that Sony has plans to put the Vision-S into production itself. The auto industry is notoriously difficult to crack, and make money while you're doing so – just ask Elon Musk and Tesla – whereas getting a foot in the door as a supplier can be far more lucrative. Sony's pillars of focus – Safety, Entertainment, and Adaptability – map out nicely to its product areas across its business, and that could be a welcome revenue stream as cars continue to get geekier.