Sony VAIO X half-inch luxury ultraportable debuts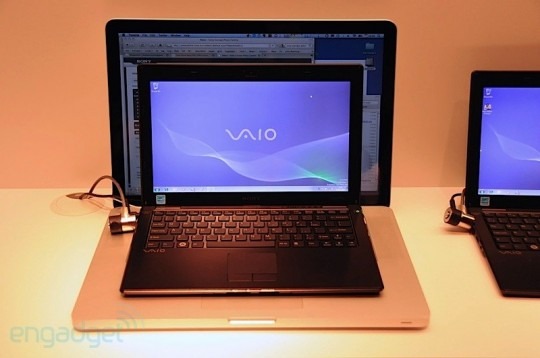 Sony's VAIO TT may have passed on, but the company have a new ultraportable with which they're hoping to coax your attentions.  The Sony VAIO X is being described as the true successor to the X505, with the 11.1-inch notebook measuring just a half-inch thick and using materials such as carbon-fiber for the chassis and aluminum for the keyboard.
Sony are yet to finalize what specifications the VAIO X will have, but right now it's running an Intel Atom CPU with a 31Wh battery they claim is good for a full day's use.  In terms of ports, the VAIO X manages to squeeze in two USB ports, an ethernet port, SD/Memory Stick slot, and a VGA output.  The casing will apparently be available in both matte and glossy finishes, though the display is matte.
According to Engadget, there's some flex in the body but it feels high-quality; as well it might, Sony are talking about an "under $2,000" price tag but that's still very expensive for an Atom-based machine.  It's possible that a CULV version will be announced when the VAIO X sees its official launch in October 2009, with sales availability around a week after Windows 7 is released on October 22nd.