There's a lot to like about Sony's VAIO X ultraportable – its indecently-skinny build, the engineering intelligence that went into its design, and its lengthy battery life just to name a few things – but if you're less than inspired by Windows 7 then how about a Mac OS X version?  That's not one of Sony's official options, but insanelymac forum member Asama took it upon himself to throw OS X Snow Leopard onto the VAIO X himself.
To do so he used the hacked together build of Snow Leopard that's been put together for the Sony VAIO P, reasoning that many of the components used in that don't-call-it-a-netbook machine were the same as used in the VAIO X.  Happily it installed quite merrily, though as expected the WiFi doesn't work.  Where fixing that in the VAIO P is a case of taking out the wireless card and swapping in a different one, it's a more arduous task on the VAIO X since so much has been soldered into place in the name of space-saving.
Still, we're sure some brave soul will attempt it, and until then we'll just marvel at a notebook that manages to out-Air the MacBook Air.  Certainly not the cheapest Hackint0sh we've seen, but perhaps the most handsome.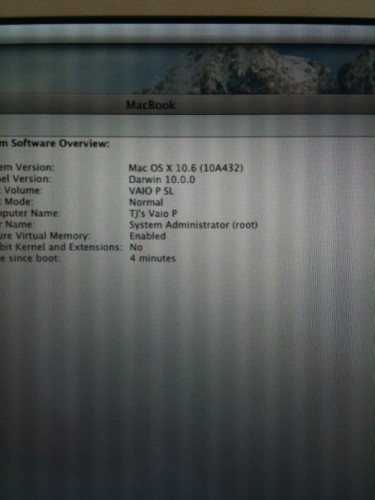 [via Gadgetmix]