Sony VAIO TT Ultraportable Specs Leak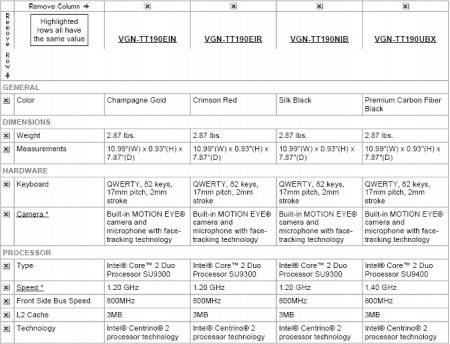 Sony are preparing to drop a new VAIO ultraportable, the TT-series, which will replace the VAIO TZ.  Make no mistake, this is no netbook; according to SonyStyle's VAIO advisor, the four model TT-range will top out with a 1.4GHz Intel SU9400 Core 2 Duo, 4GB of RAM and dual 128GB SSDs in RAID setup.  The top-spec VGN-TT190UBX also has a Blu-ray burner and HDMI output, and weighs just 2.87-pounds; every model has an 11.1 inch LED screen with XBRITE-DuraView running at 1366 × 768.
The other three configurations – the VGN-TT190EIN (in gold), VGN-TT190EIR (in red) and VGN-TT190NIB (in black) – have 1.2GHz Core 2 Duo SU9300 processors, up to 4GB of RAM and up to 160GB of non-SSD 5,400rpm storage.  They also use DVD writers, rather than Blu-ray.  Wireless connectivity is WiFi a/g/n, Bluetooth and ethernet across the board, with an EVDO model (or option) coming at some point.  Like the TZ there are two USB ports, VGA out, a built-in webcam, Memory Stick and SD slots.
The VAIO TT looks to be a real stormer of an ultraportable, by specs at least, and it'll be interesting to see what Sony have done in terms of style.  Since the TZ was released, Apple have brought out their MacBook Air, Lenovo their ThinkPad X300 and a variety of other manufacturers have introduced slick ultraportables.  However if there's one thing Sony generally has a knack for, it's making polished, expensive laptops.