Sony VAIO P overclocked to 2.4GHz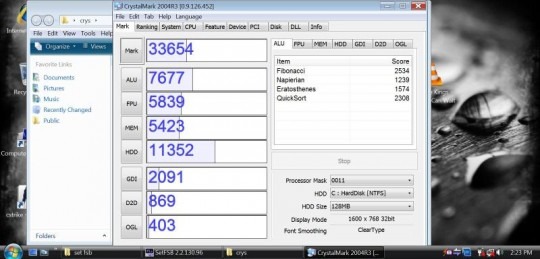 A page of CrystalMark benchmark results may not be the most interesting image to lead with, but when you're showing the overclock results of pushing Sony's VAIO P not-a-netbook from its stock 1.86GHz up to 2.3GHz, then we'll take notice.  EeeUser Forum member Cerano was responsible for the modifications, and in fact got his VAIO P cranked up to 2.4GHz (though he didn't benchmark it at that speed).
Cerano's VAIO P has the standard 64GB SSD and is unmodified from stock, at least as far as hardware.  All he did, in fact, was prop the netbook up to allow better airflow; temperatures during the benchmarking were in the 49 to 60 degree range.
Overall, CrystalMark took the laptop from 28,685 untampered to 33,654 at 2.3GHz, and Cerano claims it was stable at that speed.  Battery life would obviously take a hit if you ran it at that sort of speed 24/7, but if you need a sudden boost for A/V processing then it should work wonders.
[via UMPC Fever]