Sony VAIO NS And CS Notebooks With Blu-Ray Option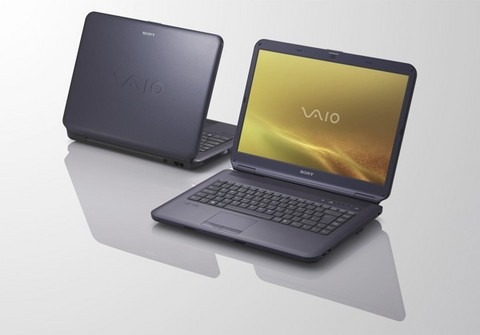 Sony have announced two new models in their VAIO laptop range, the NS-series and CS-series.  The former has a 15.4-inch display, while the latter has a 14.1-inch; both use widescreen XBRITE-ECO, panels, and both can be specified with Blu-ray drives.  Power in the NS is courtesy of Intel's 2GHz T5800 Core 2 Duo CPU, while graphics are integrated X4500; in the CS it's a P8400 2.26GHz processor.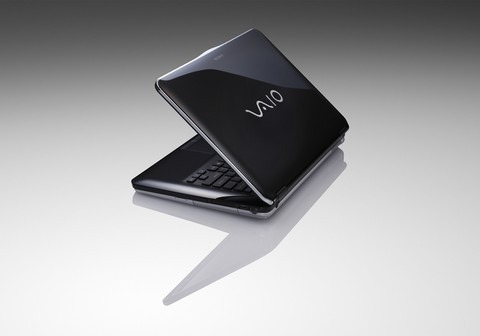 Even the entry level NS models have 3GB of RAM and a 250GB hard-drive; color options are blue, white and silver.  The CS, meanwhile, has 4GB of RAM and a 320GB hard-drive, while color options are glossy "sangria, cosmopolitan, dove and black" or a matte black.  It also has a 12-tone music analyzer which creates a music-triggered LED light show in the palmrest, based on the same technology as in the Sony Rolly.
Both the VAIO NS and CS laptops will be available starting in the fall.  The CS will begin at $920, with the Blu-ray model at around $1,070; the NS will start cheaper at $650, though the Blu-ray model will be around $1,000.
Press Release:
Sony UNVEILS TWO BLU-RAY Disc NOTEBOOK PCS

SAN DIEGO, Sept. 12, 2008 –- Sony today introduced two notebooks with Blu-ray Disc™ technology— the VAIO® NS and CS models.

"With these new units, Sony is now offering consumers a host of multi-media PC options to choose from," said Mike Abary, senior vice president of VAIO product marketing at Sony Electronics. "And with a starting price of around $1,000 for the NS model, we're expecting a new audience to experience HD entertainment on their computers."

HD Entertainment Attractively Priced

The VAIO NS notebook features an optional Blu-ray Disc-ROM drive that is ideal for viewing HD content. It also has the added convenience of DVD and CD read/write functionalities.

The PC is equipped with a 15.4-inch (measured diagonally) widescreen display, and Sony's own XBRITE-ECO™ LCD technology for sharp details and vivid colors.

The NS model easily accesses your music, movies and the Internet. Its integrated A/V mode features a dedicated menu, putting entertainment within easy reach by letting you select up to nine programs, such as a favorite web site, from one location.

Packing an Intel® CoreTM 2 Duo processor, significant RAM and ample storage, the NS notebook is equipped with the tools required for everyday computing.

Available in three colors— nightfall blue, silk white and granite silver— the VAIO NS notebook will start at around $650, while the Blu-ray Disc model will go for about $1,000.

High Fashion Meets High-Def

The VAIO CS notebook is available in four glossy colors— sangria, cosmopolitan, dove and black. A standard black matte finish is also available.

The unit is equipped with a 14.1-inch widescreen display and XBRITE-ECO™ LCD technology for sharp images. Matched with an optional Blu-ray Disc-ROM drive, the CS model is ideal for watching HD entertainment on-the-go.

Its instant A/V mode lets you kick off your entertainment with ease. Go straight to watching a movie, playing music, or viewing photos with the touch of a button. A built-in A/V slide control also lets you control all functions (play, pause, rewind, fast-forward, stop, eject, etc.) all with one-touch ease.

The PC has a uniquely configured keyboard, designed with spacing between the keys, for a comfortable typing experience. A specialized keyboard font adds a fun touch. The unit also has a12-tone music analyzer that translates your music into a colorful LED light show that plays out beneath the palm rest of the PC.

It is backed by optional Intel® Centrino® 2 processor technology with plenty of power for high-speed performance and an energy-efficient design for remote computing.

The CS model will start at about $920, while the BD model will go for around $1,070.

The VAIO NS and CS notebooks will be available online at www.sonystyle.com/pr/fall. They will also be sold at Sony Style® stores and select retailers around the country starting this fall.