Sony VAIO LV-Series High-Definition PC/TV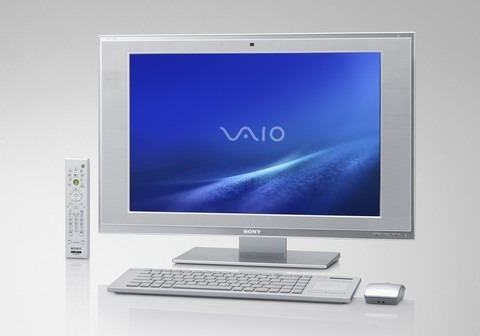 Sony are describing their VAIO LV-series as a High-Definition PC/TV.  Not only is the LV a full desktop media PC, with a 24-inch WUXGA 1920 x 1200 FullHD LCD, up to a 3.16GHz Intel Core 2 Duo E8500 processor, 4GB of RAM and up to 1TB of 7,200rpm SATA storage, it has an HDMI input so that it can be used as a 1080p display.
Up to an NVIDIA GeForce 9300M GS graphics card with 256MB RAM can be specified, and Blu-ray is standard across several of the six models.  Connectivity includes gigabit ethernet, WiFi b/g/n, Bluetooth with A2DP support and an NTSC/ATSC TV tuner.  Ports include five USB 2.0, S-Video, audio and microphone input, two RF antenna inputs, iLINK FireWire, headphone and S/PDIF outputs, A/V outputs and an HDMI input.  A 1.3-megapixel webcam is above the screen, together with a microphone.
Sony provide a wireless keyboard and mouse, together with a remote control.  There's also a separate IR blaster, that can control a connected A/V source.  Two 5.5W speakers are built in, but the LV is capable of decoding Dolby Digital surround sound.  Sony have also incorporated the power supply, making the LV-series straightforward to wall-mount.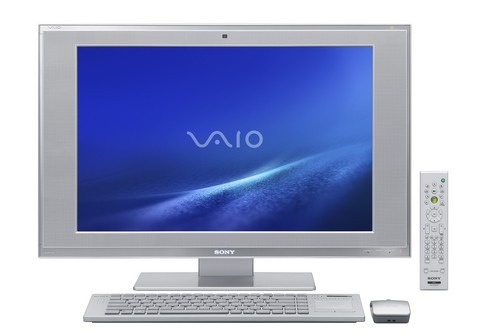 Unfortunately you can't use both the PC and the HDMI input at the same time; Sony told me that it's one or the other at the moment, partly because of digital copyright concerns.  I had been hoping to have a PS3 window open in the corner and a (neglected) Word document languishing below.
The Sony VAIO LV-series ranges from $1,600 to $2,800, with Blu-ray equipped models starting from $1,900.  They'll be available in the fall.