Sony VAIO L Series Touchscreen All-in-One to Launch July 13th 2011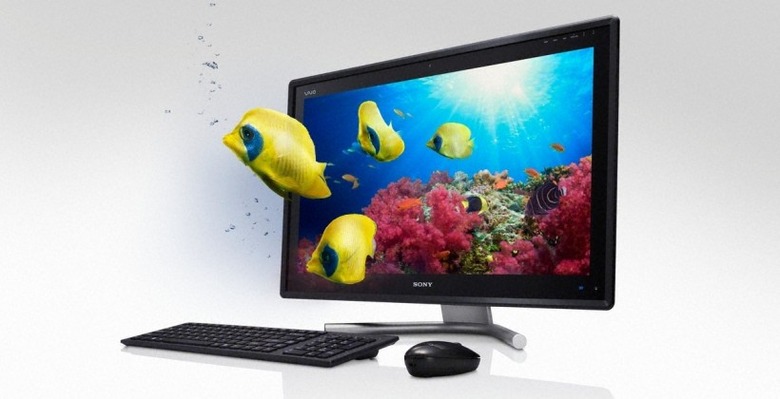 Originally scheduled for release in March of this year, a Sony press release has just confirmed Sony's new L Series all-in-one touchscreen desktop will be available next month. Also confirmed is the wall-mount option. This desktop doesn't have to be on the desktop, it can be mounted on the wall (mount sold separately). Sony is marketing this as an entertainment PC that may actually replace the TV.
The touch screen has Edge Access built into the screen's bezel that will function like on-screen shortcut keys. The display itself is a 1920 x 1080 full HD display with 3D included. One pair of USB rechargeable 3D glasses are included. Inside are some powerful performance options: Quad Core Intel i7 processor, Windows 7, Nvidia graphics with 1 GB VRAM, and USB 3.0. Sony says options will vary, but the L series looks like it has the potential to perform. It has built in HD webcam by Exmor, and the option for Blu-ray disk and DVR.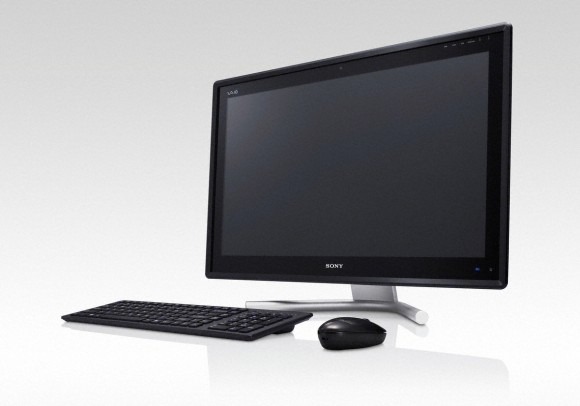 It will be available in all black and a premium White Signature Collection model. The pre-sale will begin on July 13th on Sony's site and at select retailers nation wide. No official word as to which retailers will be on the short list. The price is estimated at $1,420. That seems a little high for a PC, but we will have to see which options you get for that price. The L Series has some good looking specs, and has the potential for some excellent performance. With the HDMI cable, a game console or other device can be connected to turn this VAIO into entertainment central.
Press Release:
New Sony® VAIO® L Series All-in-One desktop:

With so many integrated features, including a 3D display, the L Series delivers the ultimate one-stop shop for your every productivity and entertainment needs. The VAIO L Series All-in-One desktop is a contemporary high-definition PC/TV with a stunning 24-inch (diag.) LED backlit multi-touch display that offers intuitive touch access to Internet and TV(select models), Blu-ray Disc™ movies (select models), music, photos and more.

The Sony VAIO L Series features a full HD 3D display and lets you enjoy 3D Blu-ray Disc™ movies and PC games in 3D. You can also connect to a PlayStation®3 entertainment system via HDMI® and enjoy 3D gaming on the 24-inch full HD display. One pair of USB rechargeable, active shutter 3D glasses are included with the L Series desktop.

Powerful and Productive:

• Quad Core Intel® Core™ i7 processor for visibly smart performance at its best (select models)

• Windows® 7 Professional (select models)

• Windows® 7 Home Premium (select models)

• Dedicated NVIDIA® graphics with 1GB VRAM (select models)

• Sleek and sexy All-in-One design from any angle

• Compact All-in-One design, wireless keyboard and mouse offer a clutter-free workspace

• Wait less and transfer data faster with USB 3.0 technology

• HD web camera powered by Exmor™ sensor offers great low-light performance and superb

video chatting quality

• VAIO Care™ software makes PC maintenance simple

Easy Entertainment:

• Explore the web, music, photos and more with a touch of a finger

• Multi-touch controls offer a simple, intuitive way to explore your PC

• Edge Access™ technology incorporates touchable controls into the display's bezel

• Experience 2D and 3D Blu-ray Disc™ movies (select models) and games in stunning Full 1080p HD

• Enjoy your photos and videos in 3D with the 3D photo and video viewer

• Enjoy rich, full audio with S-FORCE™ 3D Front Surround Sound technology

• Connect your PS3™ system or set-top box via HDMI input

• Experience your content in a whole new way with Media Gallery™ software

• A true All-in-One solution with a PC, Blu-ray Disc™ player (select models), HDTV and DVR (select models) in one sophisticated wall-mountable package (mount sold separately).

The L Series with 3D technology will be available July 13, 2011 for pre-sale at www.sonystyle.com/lseries and at select retailers around the country for about $1,420. The new L Series comes in black or a premium white Signature Collection model.