Sony VAIO L Series all-in-one wraps touch-bezel around multitouch screen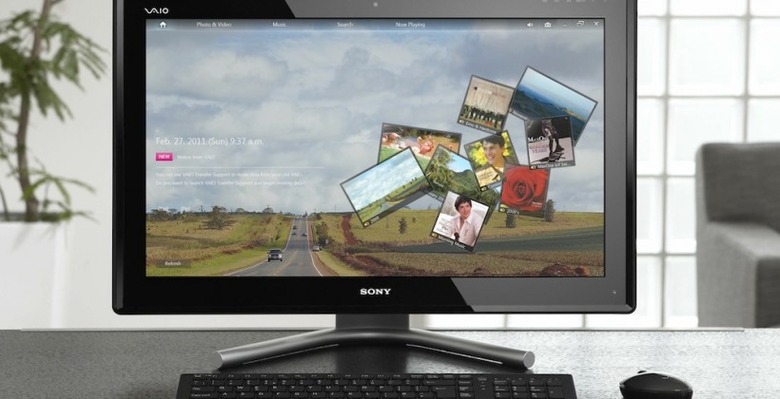 Sony's third VAIO launch of the day is the new VAIO L Series, all-in-one touchscreen desktops packing 24-inch Full HD displays and a new "edge access" system of touch-sensitive shortcuts integrated into the bezel. Packing a choice of Intel Core i5 or i7 processors, NVIDIA GeForce GT 540M graphics and a 1920 x 1080 multitouch display, the L Series also hides a Blu-ray drive and both HDMI input and outputs.
That allows you to use the all-in-one as a standalone display, useful if you want some downtime with your PS3. There's up to 1TB of HDD storage, up to 8GB of DDR3 memory and four USB ports – two each of USB 3.0 and USB 2.0 – along with WiFi b/g/n and Bluetooth 3.0+HS.
The "edge access" offers a trigger to the Media Gallery if you tap the VAIO logo in the corner, while other areas allow for navigation and zooming of documents and webpages, switching between on-screen windows, pulling up the on-screen keyboard or opening the user guide. No word on pricing, but the Sony VAIO L Series will go on sale from the end of March 2011.
Press Release:
A touch of brilliance: new VAIO L Series by Sony

All-in-one multimedia PC with 24" Full HD touch screen and "Edge Access",

Blu-Ray Disc and one-touch web

Slim, space-saving desktop PC with large multi-touch screen

Control functions easily with innovative touch sensor in screen bezel

24" (61cm) Full HD VAIO Display Plus with LED backlight

HD web camera powered by "Exmor" for clearer video chat

Blu-ray Disc (selected models) and S-Force Front Surround 3D for thrilling entertainment

Use as Full HD monitor to enjoy PlayStation®3 and other connected devices, even when PC is switched off

Surf the Internet in seconds with one-touch WEB access

Everyone in the family can enjoy a beautiful view of their favourite videos, photos, games and more with the stylish new VAIO L series multimedia PC from Sony.

The all-in-one VAIO L Series makes an elegant focal point for your home multimedia collection. Ideal for any living space, the slim, space-saving design features a glossy black finish, with the tilt-adjustable 'floating' display resting on a sleek V-shape stand.

The stunning design of new VAIO L Series is accented by a 24" (61cm) Full HD VAIO Display Plus screen with LED backlight. This super-size display brings all your movies, photos, music and games vividly to life with superb clarity and contrast.

It's beautifully easy to interact with your media collection using the full-frame multi-touch screen. Open and scroll through files, zoom and rotate images with intuitive fingertip gestures... and no mouse or menus needed.

In an exciting innovation by Sony, the LCD screen of VAIO L Series is surrounded by a touch sensitive new "Edge Access" that gives friendly 'no mouse' access to key functions.

Touching the VAIO logo in the top corner of the bezel launches Media Gallery – the intuitive way to browse and enjoy your collection of photos, videos and music. Other touch-sensitive regions of the bezel let you navigate or zoom documents and web pages, flick between on-screen windows, launch an on-screen 'virtual' keyboard or view a handy operation guide. There's also an illuminated Sony logo on the bezel that dims at a touch for comfortable viewing in darkened rooms.

With the latest generation of speedy Intel® Core™ i7 or i5 processors inside, VAIO L Series provides all the power you need to manage today's media collections. Latest NVIDIA® graphics with DX11 support assure an even more satisfying HD video experience with the new generation of PC games designed for multi-core processors.

Depending on configuration, a Blu-ray Disc™ writer lets you create, edit and store HD content with up to 50GB of storage on a single Blu-ray Disc. And whether you're playing games or watching HD movies, S-Force Front Surround 3D complements your HD entertainment experience with powerful, ultra-realistic audio.

The integrated HD web camera powered by "Exmor" delivers a crisp, clear High Definition image. It's ideal for more realistic, satisfying web chats and video calls.

With a touch of the handily-placed WEB button you're powered up and online in seconds. There's also an ASSIST button that launches VAIO Care software, troubleshooting problems and keeping your VAIO in top condition.

An HDMI output connects VAIO L Series to any HD Ready television to watch video, photos, graphics and games on your TV screen. There's also an HDMI input that turns VAIO into a Full HD monitor, even when the PC's not booted up. You'll enjoy a superb view of PLAYSTATION®3 games and other connected HD sources, with incredible detail and contrast.

Wireless data transfers are accelerated by Bluetooth® 3.0, while SuperSpeed USB 3.0 boosts file transfer speeds by up to ten times compared with USB 2.0.

The all-in-one 24" VAIO L Series family multimedia PC by Sony is available from the end of March 2011.