Sony touchscreen VAIOs planned for Windows 7; PlayStation Network integration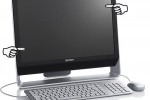 Sony are planning VAIO computers with touch capabilities once Windows 7 launches, potentially taking advantage of casual gaming, streaming and downloadable movies and TV content from the PlayStation Network.  Speaking in an interview with LaptopMag, Sony's senior VP of the Information Technology Products Division, Mike Abary confirmed that the company find the touch functionality in Windows 7 "compelling" and that they would be looking to adopt some of those technologies in their upcoming PC ranges.
Abary did not clarify whether the touch functionality would include multitouch support, though given it's that which most differentiates touch support in earlier Microsoft OSes it seems a likely assumption.  He also failed to differentiate between Sony's desktop VAIO line and their notebook range, though it's entirely possible that both the all-in-one PCs and the laptops could gain touchscreen controls.
"The PlayStation network is growing. We believe that network will have an option with VAIO PCs or any PCs for that matter. What we are trying to do is collaborate with our peers at PlayStation in that regard." Mike Abary, Sony
As for integration with the PlayStation Network, Abary highlighted that the VAIO team are now under the same electronics group as PlayStation, Walkman, and Reader, and confirmed that there is increasing collaboration between the four divisions.  Finally, talking about NVIDIA Ion, Abary pointed out that NVIDIA is a hardware partner of Sony and suggested that, while netbooks in general "have taken us backwards in the overall industry", Ion was a step forward for the budget ultraportables.  As for smartbooks, though, he's less impressed, being of the belief that customers will expect laptop performance from such devices, and being unclear on the differentiation between a smartbook and a normal ultraportable (such as Sony's own VAIO TT) with integrated WWAN.