Sony touchscreen photo printer patent with wireless image transfer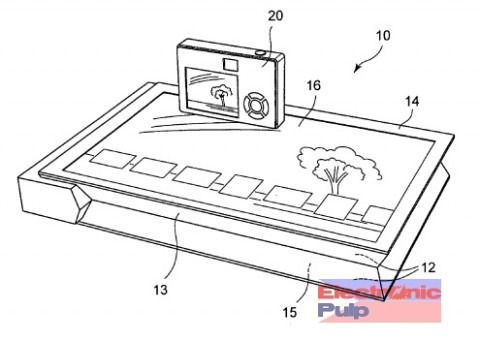 Sony are attempting to patent a digital photo printer the top-surface of which is a touchscreen display, and which could wirelessly access photos from a digital camera placed on top of  it.  The patent, entitled "Image forming device, having an ejection tray, and a display is mounted to a cover", details a printer with a form-factor more similar to that of a flatbed scanner and, similar to how the Microsoft Surface multitouch table can access photos from a compatible device placed on top of it, is capable of displaying content from any device " is placed on or immediately over the display."
The patent describes the printer as being inkjet based, with storage for printer paper in the cavity below the hinged lid.  As well as wireless communication with a digital camera or other imaging device, which would obviously require them to be suitably equipped with a transmitter/receiver, the application also suggests that the printer would have more traditional wired connections, for instance USB or Firewire.
When the camera is placed on the top panel, thumbnails of the images it contains are automatically displayed; tapping any of them enlarges them to full-screen, at which point they can be printed.  It would make sense to assume that, in any commercial product based on the printer, Sony would also allow you to edit and/or crop the images before printing.
Of course, there's no telling whether Sony will actually bring such a printer to market.
[via Electronic Pulp]