Sony Torne digital TV tuner for Japanese PS3 announced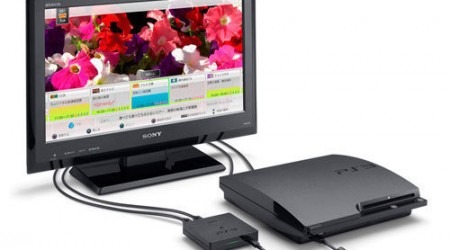 As well as the 250GB PS3, Sony Japan have also announced a new digital TV tuner peripheral for the console.  The Sony Torne will drop in March 2010, and offer Japanese buyers a way to watch digital terrestrial TV broadcasts on their PS3, together with PVR functionality that allows for recording content (either to the PS3's HDD or a connected USB 2.0 drive) even while the PS3 is being used for gaming, Blu-ray playback or just in standby mode.
Once you've recorded a show – using the new on-screen GUI which shows all the available channels – you can then load it onto a Memory Stick Micro M2 or Memory Stick Pro Duo and slot that into your PSP for watching on the move.  Footage will automatically be optimized for the PSP's display; alternatively, if you have WiFi access while out, you can use remote play to control the Torne and watch streaming content on your PSP.
It's all reminiscent of the PlayTV peripheral launched in Europe back in 2008, which basically offered the same digital TV recording/time-shifting but for European broadcasts.  Sony Torne for PS3 will arrive in Japan come March 2010, priced at 9,980 yen ($109).