Sony SRT-DG820 AV Receiver with HD Audio launches in Europe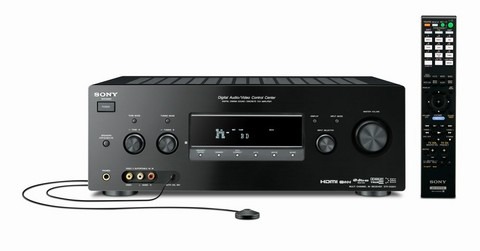 Sony Europe has announced availability of three new home cinema AV receivers, each supporting 1080p 24fps True Cinema high-definition.  The range flagship, the SRT-DG820, also includes full HD audio decoding, including Dolby True HD, dts Master Audio and eight-channel Linear PCM.  All three have HDMI v1.3 inputs together with digital audio and standard A/V inputs, support BRAVIA Sync for unifying remote control, feature auto-calibration and a Sony Digital Media port for plugging in WiFi or Bluetooth adaptors, iPods or Walkman PMPs.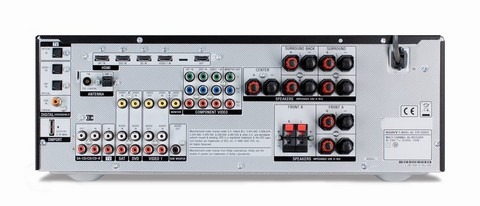 The STR-DG820 has four HDMI inputs, four assignable digital audio inputs, and audio and video inputs for five more sources.  It can pass a 1080p 24fps signal, complete with Deep Color and x.v.Color, for full Blu-ray support, and outputs seven channels of 100W each (together with a subwoofer preout connection).
The STR-DG720, meanwhile, has three HDMI inputs, and like its big brother supports 1080/24P video and x.v.Color.  In fact, all you really lose is the Dolby True HD/dts Master Audio decoders.  Slotting in at the bottom of the range comes the STR-DG520, which has two HDMI inputs, 1080/24P pass-through, Digital Cinema Auto Calibration, Cinema Studio EX processing and Sony's Digital Media Port.  It delivers 5 x 100W.
All three systems should be available in Europe now, with the DG820 priced at around $400.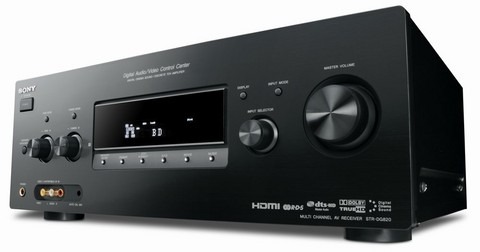 Press Release:
23rd June 2008 – Advanced home cinema at newly affordable prices – that's what's on offer in Sony's new AV receiver range, thanks to innovative features across the three-strong line-up.

From the entry level STR-DG520 and the midrange STR-DG720, all the new receivers support 1080p 24fps True Cinema, while the range-topping STR-DG820 brings Full HD audio capability to even more users thanks to its onboard Dolby True HD/dts Master Audio decoders, now available at an unprecedented price.

And all three receivers also offer a host of features to make them easy to install and integrate into complete home entertainment systems, including Digital Cinema Auto-Calibration for simple, accurate automatic set-up, Digital Cinema EX processing for more immersive surround effects and Sony's DM Port for fast hook-up of portable and personal music players, wi-fi networks and Bluetooth®.

STR-DG820: making Full HD cinema sound and vision more affordable than ever

The STR-DG820 from Sony sits at the top of the new range and incorporates many features previously only available on much more expensive products, including HD Audio decoding and full 1080/24P video support with Deep Colour and x.v.Colour compatibility.

STR-DG820

HD Audio decodingThe superb picture quality available on Blu-ray Disc™ releases is only half the home theatre experience: the latest titles are able to deliver soundtracks with impact and detail way beyond anything previously available in the home. To make the most of these new soundtrack formats, the STR-DG820 can decode both Dolby True HD and dts-HD Master Audio, as well as all the legacy Dolby and dts audio formats.

And for players outputting these soundtracks as Linear PCM, such as the PLAYSTATION®3, the STR-DG820 can handle eight-channel Linear PCM audio, too.

1080/24P Full HD capability, with Deep Colour and x.v.Colour

To allow all the picture quality of Blu-ray Disc™ to be delivered to your BRAVIA TV, the STR-DG820's HDMI section, which has four inputs and a monitor output, is fully compatible with all the latest video technology. It can pass a 1080p 24fps signal, complete with Deep Colour and x.v.Colour – when used with a suitable player and TV – so you see movies just as the director intended.

Digital Cinema Auto Calibration and Digital Cinema EX

Setting up the STR-DG820 is simple: you just plug in the microphone supplied, and press a button. Digital Cinema Auto Calibration then takes over, measuring the distances at which your speakers are placed, checking what size they are, and tuning the set-up of the system to make the most of your cinema sound experience.

And when you're all set up, Cinema EX mode can ensure you are put right at the heart of the movie, using sophisticated signal processing and measurements made on the sound stages at Sony Pictures Studios.

STR-DG820

Digital Media Port and Portable Audio EnhancerThe STR-DG also features Sony's DM PORT, able to accept a range of modular adapters to interface with portable devices such as WALKMAN® players, WALKMAN® phones and iPods. There are even adapters for Bluetooth® and wi-fi connectivity, and the Portable Audio Enhancer setting is designed to bring new life to compressed music files.

One-button control with BRAVIA Sync

BRAVIA Sync gives one-button control of the receiver, a Blu-ray Disc™ player and a BRAVIA TV connected via HDMI. Press 'play' and the TV will select the correct input automatically; select 'standby' when you've finished viewing and the whole system will shut down. It really couldn't be any simpler.

The power to thrill, and the flexibility to handle even complex systems

The STR-DG820 has all the power you'll need to fill even the largest room with thrilling surround sound. It delivers 100W into each of its seven speaker outputs, and has a preout socket to connect an active subwoofer.

And even complex systems can be accommodated by this highly flexible receiver, as well as those four HDMI inputs, the STR-DG820 has four assignable digital audio inputs, and audio and video inputs for five more sources, such as satellite/cable TV receivers, video recorders and the like. There's also a built-in FM RDS/AM radio tuner.

STR-DG720

Sitting below the STR-DG820 in the new range, the STR-DG720 has a three-in/one-out HDMI repeater with support for 1080/24P video and x.v.Colour, and can accept HD multichannel HD audio as eight-channel Linear PCM.

This value for money 7x100W receiver also has Digital Cinema Auto Calibration and BRAVIA Sync to simplify set-up and operation, Cinema Studio EX processing, and can decode Dolby Digital EX and dts-ES soundtracks. Completing the specification is Sony's Digital Media Port for the connection of external music players.

STR-DG520

The simplest receiver in the new range is also designed to sell at a price enabling it to bring an exciting home cinema experience to entry-level buyers. Yet despite its highly affordable price, it still offers many of the features of the higher-specification models.

It has a two-in/one out HDMI switcher with 1080/24P pass-through, Digital Cinema Auto Calibration, Cinema Studio EX processing and Sony's Digital Media Port. It delivers 5x100W.

The STR-DG820, STR-DG720 and STR-DG520 are available from Sony Centre stores, retailers and online at the Sony Style shop – www.sonystyle-europe.com.

STR-DG820 key features

Full HD audio capability: Dolby True HD and dts-HD Master Audio decoding, plus eight-channel Linear PCM
Four HDMI v1.3 inputs and one output, with 1080/24P pass-through and Deep Colour/x.v.Colour compatibility
One-button operation of a complete system with BRAVIA Sync
Fast, accurate set-up with Digital Cinema Auto Calibration
Digital Media Port for connection of iPod, WALKMAN®, wi-fi and Bluetooth® audio devices
More immersive cinema experience with Cinema Studio EX and Neural-THX Surround processing
7x100W output