Sony shows off PlayStation 4 Pro internals in new teardown video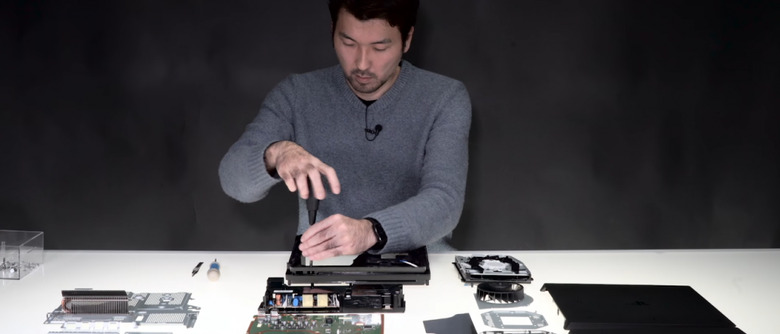 The PlayStation 4 Pro launched yesterday, and now Sony is giving us an up-close and personal look at the console's hardware. It's doing that in a new teardown video, where Sony takes us through all of the components of the PS4 Pro and shows us how to access them. Though this video is coming from Sony itself, it may not be the best idea to attempt the same deconstruction, as doing so will void your warranty.
However, there is one change you can make to the PS4 Pro while keeping you warranty intact: swapping out the hard drive. The first thing Sony shows us is how to access and remove the hard drive, so if that's all you're curious about, you won't have to watch too much of the video to see how to do it.
After that our presenter takes us through a teardown of the rest of system, showing us how to remove other components like the power supply and motherboard. Make no mistake: there's a lot of hardware running under the hood in the PS4 Pro. It looks like that hardware takes up most of the space it's given within the shell of the console.
If you're interested in picking up a PS4 Pro, it'll set you back $399. The console was first revealed back in September, alongside the new PS4 Slim. If you've yet to hop on the PlayStation train, the most important reason to go for a PS4 Pro over a standard model is its support for 4K resolution.
There are a number of games that received patches to make them compatible with the PS4 Pro at launch. Sony shared the full list just a few days before the console landed on store shelves, saying that it expects to see that list grow more as we close out 2016. Even better is the fact that from here on out, all first-party Sony titles will be developed with support for the PS4 Pro in mind.