Sony S1 and S2 Tablets Hands-On Roundup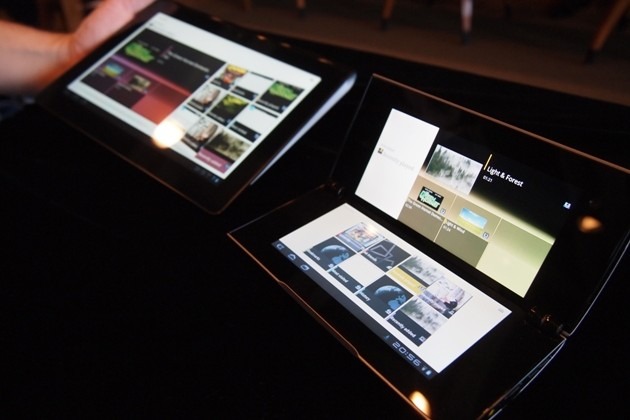 The Sony S1 and S2 Android tablets with their adventurous form factors are getting ready to hit the market although no specific dates and prices have been announced yet. Plenty of teaser videos of the tablets have surfaced in recent weeks, but today the devices were finally made available for some intimate hands-on time shortly following an announcement that AT&T would be the exclusive carrier for the S2. Here's a roundup of opinions on the S1 and S2 from around the blogosphere.
Much like how Sony handled the NGP aka PS Vita, the S1 and S2 are merely codenames for who knows what these two boldly designed tablets could be. The S1 looks more like a traditional tablet with a 9.4-inch screen but adds a twist with a form factor resembling a folded-back magazine. The S2 looks almost like a clamshell cocktail purse that opens up to reveal two 5.5-inch displays. Both will be running Android 3.0 Honeycomb and have integrated PlayStation capabilities, but any specs such as processor and screen resolution remain a mystery.
Tim Gideon of PCMag felt the designs were indeed intriguing but was puzzled by Sony's insistence on not allowing pictures or videos of PlayStation gaming demos on the tablets. Gideon expressed a slight concern regarding the customized interface and how that might slow down future Honeycomb updates. He also had the following to say about the form factors of the tablets:
This brings us to the biggest gambles: Sony, which is already super-late to market with its Honeycomb tablets and still has no launch date, is making some interesting design choices. The S1 is the thickest tablet we've seen. It resembles a tablet in a case with the cover flipped backwards...except there's no case, it's all part of the shell. This has the effect of angling the tablet towards your face when set down flat and in horizontal mode. Sony claims the angle makes it easier to type on the tablet, and easier to hold, as well. Fair enough, but this thing is bulky—and the angle also makes setting the tablet down flat in vertical viewing mode quite awkward. The gamble of the dual-screened, foldable clamshell S2 is that, no matter how cool it is, there's barely anything in the Android Market that will translate well to this screen format.
Dana Wollman of Engadget, on the other hand, liked the S1's wedge-like form factor, saying it was easy to hold and felt much lighter than it looked. Wollman commented that the S2 had the most unusual form factor of any clamshell she's seen before and points out the bezel separating the two displays to still be a problem. Overall, she finds that the snappy interface thanks to the Quick View and Quick Touch Panel technologies was what left the biggest impression.Mark Spoonauer of Laptop Mag similarly pointed out the Quick View and Quick Touch Panel technologies as what Sony is using to tout the S1 and S2 to be faster than other Android tablets. These two technologies essentially create an illusion of faster performance. Quick View loads images and then JavaScript to load web pages faster than other tablets, while Quick Touch Panel creates a smooth lag-free touch user experience.Jordan Crook of TechCrunch said much the same but noted his surprise at how unexpectedly small was the S2 clamshell tablet.
We've never had a chance to see the S2 completely folded up, and its portability is something we've been wondering about. To give you some perspective, the S2 entered the stage from the breast pocket of an executive's sport coat and was much smaller than I expected it to be. It would fit easily in a pocket, both pants and jacket, as well as a purse.
Sony has been very secretive with the two slates, hosting the event for hands-on time but surprisingly not revealing any additional specs, pricing, and release dates. The PlayStation gaming demonstrations were also not allowed to be photographed or filmed. But it was noted that the PlayStation certified S1 and S2 tablets will have access to Sony's Qriocity media platform as well as access to genuine PS1 and PSP titles. An e-reader app will also be pre-loaded along with the games Crackle, Pinball Hero, and Crash Bandicoot. More information for the tablets should come in August.