Sony RX100 II camera lens attachment tipped for smartphones

The Galaxy S 4 Zoom offers a point-and-shoot style camera attached to the body of a smartphone, but if you're wanting something with robust camera sensor that can be removed when you don't need it, you're not going to find it sadly. However, it's rumored that Sony will be releasing a camera lens attachment with the same specs as the RX100 II that was recently unveiled.
According to Sony Alpha Rumors, two anonymous sources say that Sony will be releasing such an accessory at some point in the future, and while it's essentially a clip-on lens, it packs a 20.2-megapixel Exmor RS sensor with a Carl Zeiss lens that uses your smartphone's display as a viewfinder.
This basically means that the attachment is its own camera, but it needs a few more functions in order to take photos, and this is where the smartphone comes in to offer a viewfinder and change around settings for taking optimal photos. The lens also has a built-in battery, WiFi, and NFC. We're not sure exactly how it will communicate with your smartphone, but we're guessing it'll use one of these wireless protocols listed.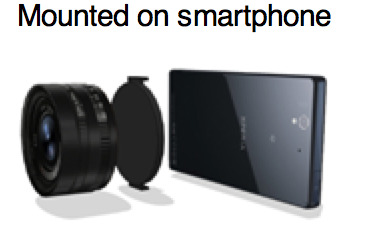 It's unclear whether the camera attachment will only be compatible with Sony's Android devices or if it'll work with all smartphones using an adapter, but we're guessing that Sony might keep it exclusive to Sony devices at least for a little while.
The attachment does seem a little far-fetched, but sources say that they're pretty confident that Sony will release it soon. As for a price tag, that's not yet discussed, but seeing as how the RX100 II costs $750 (with the lens most likely being a big part of the cost), we're guessing the attachment won't be cheap.
SOURCE: Sony Alpha Rumors