Sony's RX0 has DJI in its sights as well as GoPro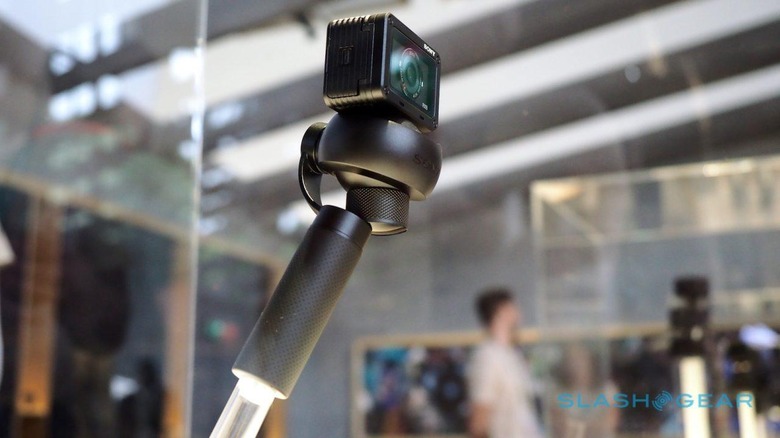 The action camera space might seem crowded right now, not to mention commoditized, but Sony believes it has something sufficiently different. That's the promise of high-end optics in a segment more commonly associated with ruggedness and ease of use, with Sony partnering up with Zeiss for the lenses on its new RX0 camera. However, it's not only GoPro that should be worried.
Sony may have been focusing on the action camera itself at IFA 2017, but the company also has a range of accessories for the RX0. Most interesting is probably its handheld stabilizer, onto which the camera mounts. Like a DJI Osmo, that compensates for hand-shake and allows for silky-smooth footage.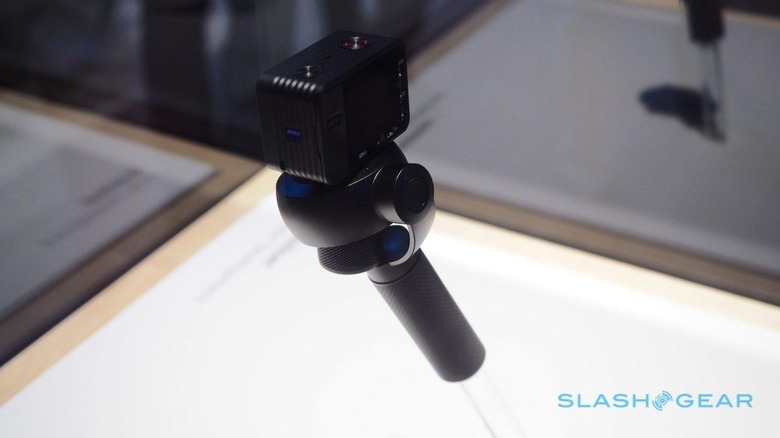 Unfortunately, according to Sony the stabilizer is only a concept under consideration at the moment. Given the RX0 lacks the in-camera stabilization that some of the company's more traditionally-shaped cameras pack, though, it's a prototype we'd certainly like to see graduate to a production accessory. Sony has already confirmed that it'll have things like waterproof housings and other add-ons for the action-cam.
Sony was also showing off 360-degree camera rigs for the RX0, which combined multiple units into a "ball" framework. That was also just a concept, the company said. Still, given the increasing use of action cameras in such systems – GoPro began shipping its Omni last year, for instance – not to mention Sony's attempt to position the RX0 as a "proper" video camera not just something for extreme sports, it seems a likely direction for the company to explore.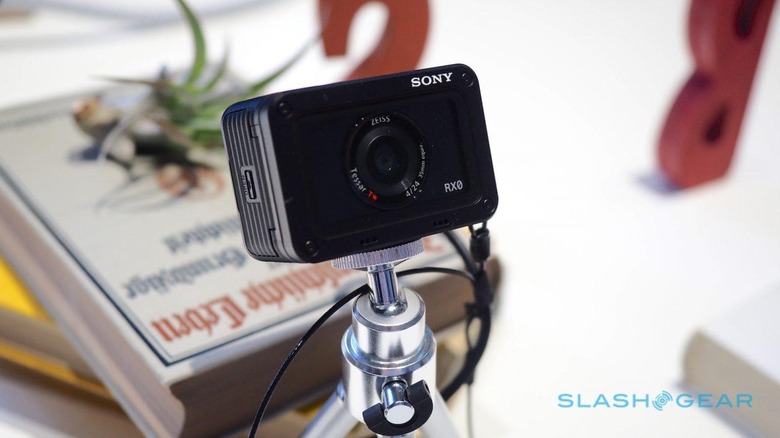 The RX0 itself is a little larger than its GoPro equivalent, though that extra size does allow for some pleasant features. For a start, it's waterproof on its own down to depths of 10m; you only need further protection if you want to go deeper. Drops from up to 6.5 feet, or crushing forces of as much as 440 pounds, are also resisted.
Most importantly, though, there's serious camera-level optics. That includes a 15.3-megapixel Exmor RS sensor, combined with a BIONZ X image processor and wide-angle ZEISS Tessar T* 24mm F4 lens. Considering companies like DJI are making increasing inroads into camera sales, with hardware that would once have been considered just add-ons for drones, that sets Sony up to broach a whole new market.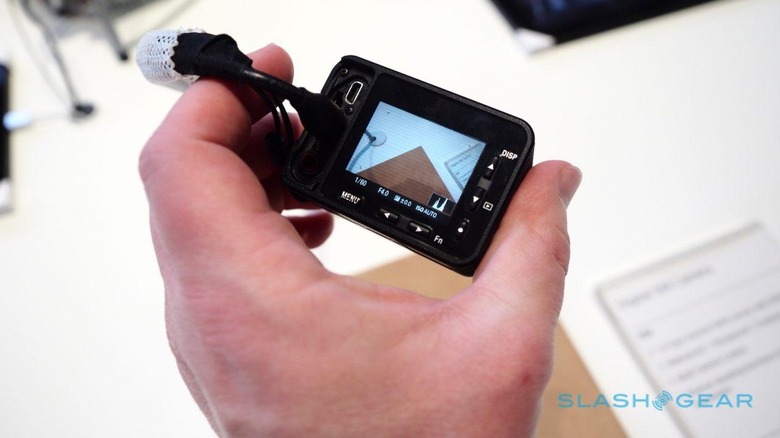 A further accessory pitched the RX0 at an entirely different market. The camera-level processor means you can use up to 15 of the action-cams together, wirelessly, for bullet-time and time-slice effects, and Sony had a concept rig which held several RX0 in a frame all pointing in the same direction though at slightly different angles. It's also capable of 16 fps burst shots, and 960 fps slow motion.
The lingering question is whether, given you can pick up even 4K action cameras for under $100 these days, there's sufficient audience for Sony's sky-high $700 price tag when the RX0 ships in October 2017. GoPro has been struggling with models at less than half that, not to mention an established name in the segment. The RX0 may be eminently capable, but cheaper alternatives may prove to be "capable enough" with a considerable saving, too.