Sony Rolly SEP-50BT dancing PMP robot gets Bluetooth remote control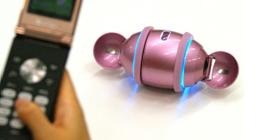 Relatively pointless, underspecified in key areas like storage, and in today's economic climate a needless luxury; all criticisms that could fairly be aimed at the Sony Rolly, and yet people keep buying them.  Latest update to the dancing, spinning, flashing and flapping PMP is the ability to control it via Bluetooth: the Sony Rolly SEP-50BT has just 2GB of onboard storage and a 5hr battery life, but now you can use your cellphone or Bluetooth-enabled PC to trundle it about.
Video demo of the Sony Rolly SEP-50BT after the cut
In fact you can synchronize the dancing of up to seven new Rollys, and a new playlist function lets you control the music from your cellphone.  As before, you can either let the Rolly make up its own dance moves, download preset dances, or programme your own.
The new Sony Rolly SEP-50BT, in pink or white, is expected to retail at around ¥40,000 ($420) when it ships in Japan on November 21st.  Owners of existing Sony Rolly models who would like the Bluetooth remote control functionality will have the option to upgrade their software in early December, though it won't be free.
[via Impress]