Sony reveals XPERIA lineup with James Bond in tow

Four XPERIA devices were revealed this week by Sony in quick succession – an XPERIA Tablet S and three smartphone XPERIA V and J, with the hero T appearing in no less than Skyfall. This week Sony's IFA 2012 press conference began with Kazuo Hirai speaking on how Sony aims to "Inspire and Fulfill" consumers around the world – moving people emotionally as they do so. This event also had Sony's European President in attendance – with a broken leg, perfect for the phrase "break a leg" for good luck. Hirai continued speaking on how Sony would be working on pushing forward mobile and gaming – and the two together at once, as well.
XPERIA T is a smartphone that brings a 4.6 inch display connected to a 16 megapixel camera with an instant sleep to snap functionality. This device is connected to a one-touch function that works with NFC to enable connections in a moment. This device will also be working with Music Unlimited with a 60 day free trial. This device will also be coming with a new service called "Access" with Music Unlimited for your music anywhere.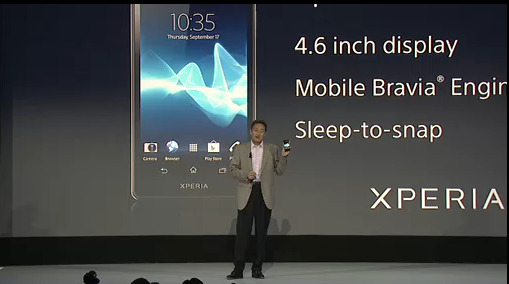 The Sony XPERIA V and J will be popping up with slightly less-fabulous specifications at smaller prices later this year as well. And the best item of all: entertainment inclusion. The brand new action movie Skyfall will be popping up – James Bond, specifically – with the Sony XPERIA T in his hand. Have a peek at our Sony portal and check out the rest of our IFA 2012 action all week.