Sony refreshes VAIO lineup with Ivy Bridge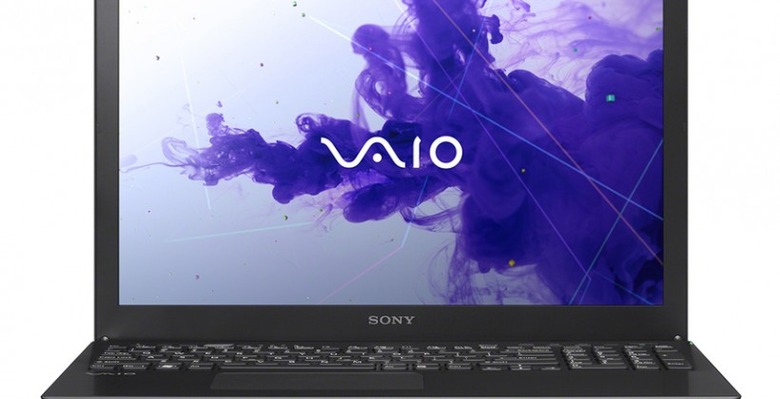 Sony has refreshed its entire lineup of VAIO computers following Intel's official launch of Ivy Bridge laptop processors last week. Besides the new VAIO T13 Ultrabook being announced with Ivy Bridge today, Sony has gone ahead and refreshed the VAIO S, E, and luxury Z series as well as its L series all-in-one desktop.
Sony's high-end line of laptops, the VAIO Z series, not only got upgraded with Ivy Bridge but also got a slight price reduction. Previously, the Z series had to be purchased with a separate Power Media Dock, which costs an additional $300. Now, you can get the Z series by itself at $1,599.99. It comes in two configurations of either i5-3210M or i7-3612M. Both models come with 1920 x 1080 displays, the same AMD 6650 GPU as before, and 128GB SSD.
The Sony VAIO S comes in 13.3-inch and 15.5-inch models, priced starting at $899.99 and $999.99, respectively. The series also offers a 13.3-inch premium version that starts at $1,119.99. Although similar in aesthetics to the Z series, this lineup still retains slot-loading optical drives and is hence a bit bulkier. The refreshed models now come with a i5-3210 processor with the option of either NVIDIA's GT640M LE switchable graphics or Intel's integrated HD Graphics 4000.
Sony's mid-range VAIO E series is also getting Ivy Bridge chips, but only on their premium versions. The standard versions of the 14.4-inch and 15-inch VAIO E series start at $549.99 and $449.99, respectively, while the the 15-inch premium version with Ivy Bridge starts at $699.99. All models in this series also now have backlit keyboards, except for the 11-inch model.
Besides laptops, Sony has also upgraded its all-in-one desktop with the latest Ivy Bridge chips. Its VAIO L series all-in-one is priced starting at $1,299.99 and comes with a Core i5-3210M processor and integrated graphics. There are three configurations in this series, all featuring a 24-inch 1080p capacitive touch display, but the most expensive one of the three also supports glasses-free 3D at $1,999.99.
All of the updated models are available for pre-order now on Sony's website. The orders are expected to begin shipping on June 5.