Sony Reader range refreshed: faster touchscreen E Ink & select 3G/WiFi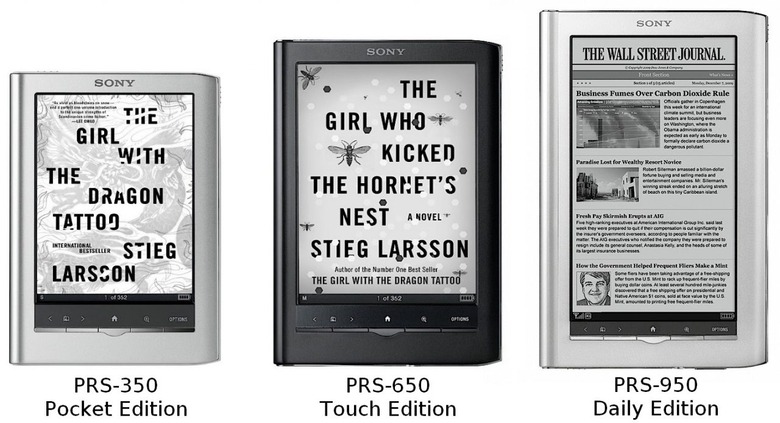 As expected, Sony has updated its Reader ereader range, taking advantage of E Ink's latest Pearl display technology and putting touchscreens on each model.  The new Sony PRS-350 Pocket Edition, PRS-650 Touch Edition and PRS-950 Daily Edition each have 2GB of onboard storage, and range from 5-inches, 6-inches and 7-inches respectively; however Sony has only given the Daily Edition wireless.
It can get online via either WiFi or 3G, and download new content that way, but the other two models are stuck with loading ebooks via either USB or SD/Memory Stick Pro.  All three come with a stylus for digitally marking up ebooks, while they have lighter, brushed aluminum casings rather than plastic.
The Sony PRS-350 Pocket Edition will be available for $179 in pink or silver, while the Sony PRS-650 Touch Edition will be $229 in black or red.  Finally, the Sony PRS-950 Daily Edition will drop in November, priced at $299.
[via CrunchGear]