Sony Reader PRS-300 and PRS-600 get full specification leak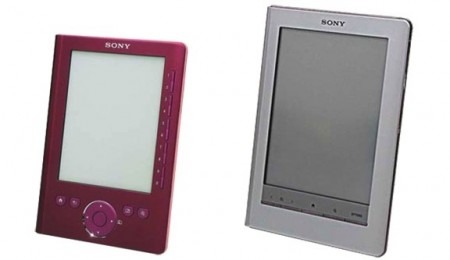 Further details of Sony's upcoming Reader PRS-300 and PRS-600 ebook devices have emerged, courtesy of some prematurely-posted J&R product listings.  The two devices, first spotted in a couple of leaked service manuals, now have MRSPs and full specifications thanks to the quick copy fingers of the HiPDA forums.
The red Sony PRS300-RC Reader Pocket Edition is the smaller of the two devices, with a 5-inch 800 x 600 Vizplex e-ink display capable of showing 8-levels of grayscale.  It measures 6.2 x 4.2 x 0.2 inches and weighs 7.76oz, and uses a rechargeable Li-Ion battery good for approximately 7,500 page-turns.  It supports Unsecured Text: EPUB File (Non DRM/ Adobe DRM protected), BBeB Book (Non DRM/ PRS DRM protected), PDF file (Non DRM/ Adobe DRM protected) and Text, RTF  and Word files (unsecured).  It has an MRSP of $199.
As for the gray Sony PRS600-SC Reader Touch Edition, that has a 6-inch 800 x 600 display with the same 8-levels of grayscale only this time, as the name suggests, with a touchscreen layer.  It supports page-turn swipes, freehand notes, highlighting, text entry with an on-screen keyboard and, like the PRS-300, 512MB of onboard memory. 
The PRS600-SC measures 6.9 x 4.8 x 0.4-inches and weighs 10.1oz; it has the same battery life and text support as its smaller sibling, but also adds non-DRM AAC and MP3 audio together with JPEG, PNG, GIF and BMP images.  It will have an MRSP of $299.
[via Sony Insider]