Sony PSPgo is selling well in US after all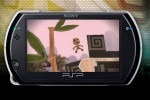 I mentioned yesterday that some retailers in the UK were already slashing the price of the PSPgo to lure more customers in to purchase. With price cuts being offered after less than a full week on the market, it would seem the PSPgo wasn't selling well in the UK. Apparently things are going much better for Sony in America with reports of sales for PSPs growing by 300%.
Gamesindustrybiz reports that Sony Computer Entertainment America has announced that sales grew 300% in America in the days since the launch of the new portable console. In addition, sales in the PlayStation Store for game downloads have also grown by 200% since the portable device launched.
Despite the price cuts, Sony Europe is also showing a 120% increase in sales according to the publication following the launch of new hardware. However, ShopTo and Chips in the UK have reportedly been unhappy with sales. I have to wonder if perhaps some of the increase in sales is from gamers gobbling up the left over PSP consoles that have UMD drives.