PSP Go price already slashed in UK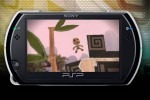 Sony's PSP Go launched here in the U.S. only this month, the device has barely been on the market for an entire week at this point. Apparently, the console isn't tearing up the sales charts in Europe either as price cuts after such a short period on store shelves are already coming.
Major UK game sellers including Amazon.co.uk, Play.com, HMV, and GAME have all issued an 11% price cut on the PSP Go bringing the price of the console in the UK to £199 from the £225 that it was originally at. Perhaps the price cut will help woo some of the mobile gamers currently playing on the Nintendo DSi or iPod touch to the PSP Go.
Even after the price cut in the UK, the Go is still more expensive than the other two systems. I think that the inability to bring UMD games already owned to the PSP Go is also a big issue for many mobile gamers.