Sony NWD-E020F Walkman PMPs with swappable color panels

Sony has unveiled its latest entry-level Walkman PMPs, and if the battle with Apple's Shuffle was based on color options then Sony would be ahead of the game.  The NWD-E020F-series will be available in 1GB and 2GB capacities and feature Sony's Quick Charge technology; that means up to 28hrs of continuous playback from just a single hour's charge.  It also has an FM radio and 3-line color LCD.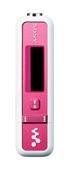 The NWD-E020F is compatible with MP3, WMA (including DRM-encrypted files), non-DRM AAC and Linear PCM files.  It has a built-in USB plug, and shows up as an external drive for drag-&-drop loading of music.  It also has Clear Bass and Clear Stereo, Sony's two sound-tweaking technologies.
Of course, it's the colors that catch the eye, and Sony will be selling five different sets of interchangeable panels: Pure White and Precious Gold; Luxury Pink and Jewel Pink; Ocean Blue and Forest Green; Urban Black and Shiny Silver; as well as Blazing Red and Indigo Blue.  There are another ten panels to choose from, if you're still not satisfied.  The NWD-E020F will be available in Asia-Pacific from mid-June, priced at $69 and $79 respectively for the 1GB and 2GB modes.  Optional color panels will be priced at $12 each.
[via Crave]