Sony NSX-24GT1, NSX-32GT1, NSX-40GT1 & NSX-46GT1 HDTVs With Google TV Unveiled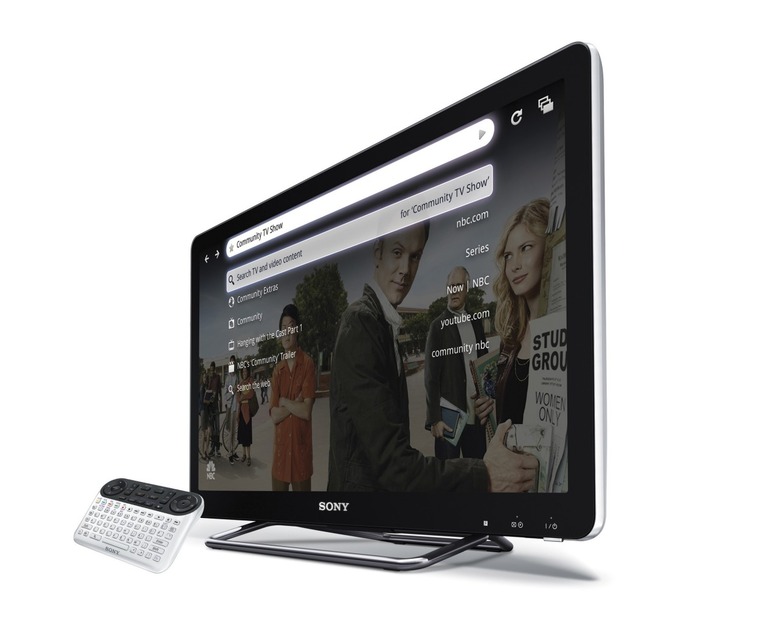 October 12th has finally rolled around, and Sony took some time out of the late afternoon (on the East Coast) to officially unveil their brand new line-up of Google TV products. While everyone knew that at least one TV would be unveiled today, Sony officially took the stage with a small supply of products: HDTVs ranging in size from 26-inches to 46-inches, and their proprietary Google TV remote control.
The LCD HDTVs with Google TV consist of several models. The NSX-24GT1 features a 24-inch display, and features a price tag of $599.99. The 32-inch model will set you back $799.99, while the 40-inch model costs $999.99. The top of the line HDTV will run you $1,399.99. All of the HDTVs will feature integrated WiFi, making it easy for you to connect to the Internet, and not having to worry about any extra boxes. Furthermore, all of them will come with pre-loaded applications, like Pandora and Napster, making sure that your time on your TV is spent actually utilizing the application, while surfing the Internet and watching your favorite TV shows.
You'll find other applications, like Twitter, Netflix, and you'll make full use of Google's Chrome Internet browser to find whatever it is you're looking for on the Internet, right from your TV. As far as release dates go, you can officially pre-order the HDTVs right now, and you'll be able to finalize your purchase beginning this weekend from Sony Style, both online and in physical brick-and-mortar locations. If you can wait, you'll be able to purchase the TVs from Best Buys beginning October 24th. Check out the full press release below for more information.
[via Android Community]
Press Release
SONY REDEFINES HOME ENTERTAINMENT WITH THE WORLD'S FIRST HDTV POWERED BY GOOGLE TV

Watch HDTV, Enjoy Apps and Browse the Internet Seamlessly on One Device

NEW YORK, October 12, 2010 – Furthering the company's leadership in the connected TV space, Sony today introduced Sony Internet TV, powered by Google TV — the world's first television with the ability to watch HDTV, enjoy apps, and browse the Internet seamlessly on one device.

The combination of Sony's hardware and engineering expertise and Google's understanding of open software provides a unique user experience, merging multiple content sources in one easy-to-use interface. From broadcast to streaming video from the Internet, Sony Internet TV offers the ability to quickly search and watch content from wherever, whenever.

"Sony Internet TV is the world's first HDTV that combines the big-screen impact of television and full Internet search to deliver an unrivaled entertainment experience," said Mike Abary, senior vice president of Sony's Home Division. "Finally, you can seamlessly search your favorite TV programs and web sites on the same screen, at the same time."

"We are very proud to be the pioneers of this new entertainment category by delivering the world's first true Internet TV experience," added Bob Ishida, senior vice president, corporate executive, and president of Home Entertainment Business Group, Sony Corporation. "Sony Internet TV creates value by introducing new and compelling ways to enjoy a variety of content."

Featuring both integrated television models and a Blu-ray Disc™ player, Sony Internet TV is powered by Google TV. It is built on the Android platform, runs the Google Chrome browser and includes a powerful Intel® Atom® processor offering the ability to quickly search across Internet and television content for easy access to entertainment and information.

The models also feature Dual View, allowing users to watch television while tweeting about what they're watching, checking their fantasy football scores, or finding related content on the web.

They also deliver a truly personalized entertainment experience with the ability to bookmark content for easy access and add applications from the Android™ Market (coming in early 2011). The models feature Sony's premium streaming service "Video On Demand powered by Qriocity™" as well as pre-installed apps including CNBC, Napster, NBA, Netflix, Pandora,® Twitter, and YouTube.™

The intuitive hand-held RF QWERTY keypad remote incorporating an optical mouse makes it easy to navigate content, type in search terms, and control the TV's user interface. Additionally, select mobile devices such as an Android phone, can control the TV with an app that will be available for download from the mobile Android Market later this fall.

Built-in Wi-Fi makes it easy to connect to home broadband networks to access web content. Additionally, Sony Internet TV is ready for the future and is fully upgradable through system updates.

Sony Internet TV easily connects to select HD DVR devices from Dish Network to include previously recorded content in the search results and control DVR functionality from the set's user interface.

Sony Internet TV Line

Featuring four LCD HDTVs with Google TV built-in, the Sony Internet TV line includes the 24-inch class NSX-24GT1 ($599.99), the 32-inch class NSX-32GT1 ($799.99), the 40-inch NSX-40GT1 ($999.99), and the 46-inch NSX-46GT1 ($1,399.99).

Sony Internet TV Blu-ray Disc Player

The Sony Internet TV Blu-ray Disc™ player with Google TV built-in, NSZ-GT1 ($399.99), also allows users to enjoy all of the powerful features of Google TV on their existing HDTV.

Sony Internet TV and the Sony Internet TV Blu-ray Disc Player are currently on pre-sale at www.SonyStyle.com and www.BestBuy.com. They will be available for purchase at Sony Style on October 16 and at Best Buy shortly after.

For more information, please visit www.sony.com/SonyInternetTV or log in to our social media community at www.Sony.com/blog.

Product specifications include:

Sony Internet TV NSX-46GT1

Available in October for $1,399.99

• 46-inch Full HD 1080p display with Edge LED backlight

• Google TV built-in

• Seamlessly search across your television & Internet for content

• Surf the web while watching TV using Dual View

• Upgradeable Google TV platform

• Download apps from Android Market (*coming in early 2011)

• Superior processing power with Intel Inside

• Easy-to-use RF QWERTY keypad remote with integrated optical mouse

• Link to select mobile phones (coming this fall)

• Built-in Wi-Fi

• Four HDMI inputs and four USB inputs

Sony Internet TV NSX-40GT1

Available in October for about $999.99

• 40-inch Full HD 1080p display with Edge LED backlight

• Google TV built-in

• Seamlessly search across your television & Internet for content

• Surf the web while watching TV using Dual View

• Upgradeable Google TV platform

• Download apps from Android Market (*coming in early 2011)

• Superior processing power with Intel Inside

• Easy-to-use RF QWERTY keypad remote with integrated optical mouse

• Link to select mobile phones (coming this fall)

• Built-in Wi-Fi

• Four HDMI inputs and four USB inputs

Sony Internet TV NSX-32GT1

Available in October for about $799.99

• 32-inch Full HD 1080p display with Edge LED backlight

• Google TV built-in

• Seamlessly search across your television & Internet for content

• Surf the web while watching TV using Dual View

• Upgradeable Google TV platform

• Download apps from Android Market (*coming in early 2011)

• Superior processing power with Intel Inside

• Easy-to-use RF QWERTY keypad remote with integrated optical mouse

• Link to select mobile phones (coming this fall)

• Built-in Wi-Fi

• Four HDMI inputs and four USB inputs

Sony Internet TV NSX-24GT1

Available in October for about $599.99

• 24-inch Full HD 1080p display with CCFL backlight

• Google TV built-in

• Seamlessly search across your television & Internet for content

• Surf the web while watching TV using Dual View

• Upgradeable Google TV platform

• Download apps from Android Market (*coming in early 2011)

• Superior processing power with Intel Inside

• Easy-to-use RF QWERTY keypad remote with integrated optical mouse

• Link to select mobile phones (coming this fall)

• Built-in Wi-Fi

• Four HDMI inputs and four USB inputs

Sony Internet TV Blu-ray Disc Player NSZ-GT1

Available in October for about $399.99

• Google TV built-in

• Seamlessly search across your television & Internet for content

• Surf the web while watching TV using Dual View

• Upgradeable Google TV platform

• Blu-ray Disc playback capability

• Download apps from Android Market (*coming in early 2011)

• Superior processing power with Intel Inside

• Easy-to-use RF QWERTY keypad remote with integrated optical mouse

• Link to select mobile phones (coming this fall)

• Built-in Wi-Fi

• One HDMI input, one HDMI output and four USB inputs