Sony NEX-VG900 Full-Frame Handycam And NEX-VG30 Camcorders Debut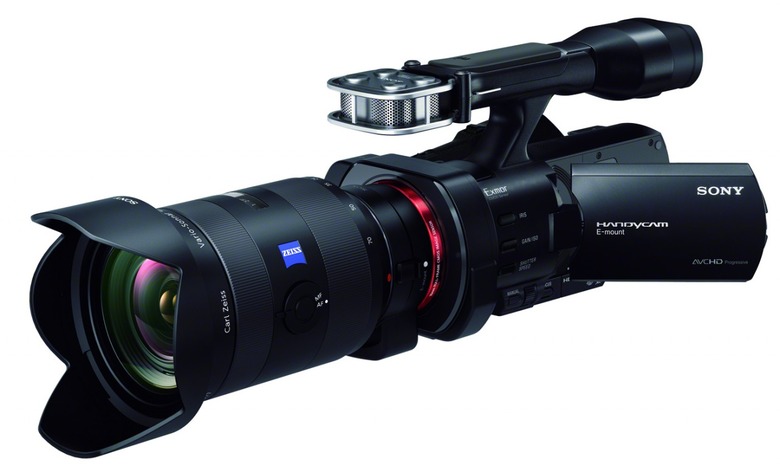 Sony has revealed a pair of new Handycams, including the full-frame NEX-VG900 and its more compact APS-C NEX-VG30 sibling, for pro-videographers with a sub-$3k budget. The Sony NEX-VG900 packs a 24.3-megapixel Exmor sensor – the same resolution as the RX1 and roughly 40x the size of most consumer camcorder sensors – and grabs both 24-megapixel stills and 25p/24p progressive Full HD video as well as the option of 50p recording.
There's also a Quad Capsule Spatial Array Microphone – made up of four omnidirectional capsules that can be flipped between 5.1-channel and stereo recording – with adjustable levels, and the optional XLR-K1M adaptor kit that throws in a mono shotgun microphone and XLR ports for external mics. A "seesaw" zoom lever promises smoother control over power-zoom lenses, and there's a bundled adapter for slapping on A-mount DSLR lenses and getting the right focal width. The NEG-VG900 also switches automatically to APS-C mode when either an E-mount or A-mount DT lens is fitted.
Sony has included both manual and autofocus modes, with the latter offering both contrast AF and focal plane phase detection AF during 24p mode standby and still image modes (as long as you're using the LA-EA3 mount adapter); phase detection AF is also available using the LA-EA2 mount adapter, while Contrast AF is provided when using E-mount lenses. For exposure, there's 99-segment metering.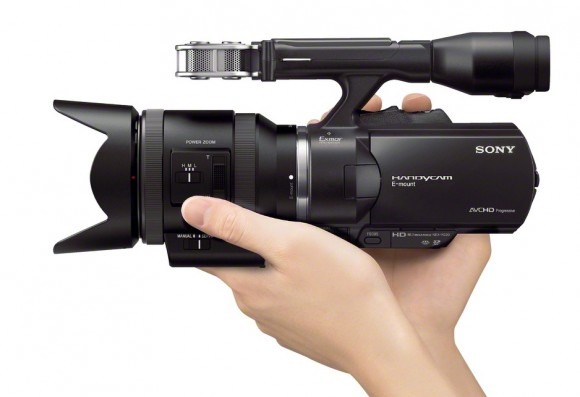 As for the NEX-VG30, that has a 16.1-megapixel APS-C sensor and uses E-mount lenses, delivering Full HD video in 24p, 25p and 50p modes. Both camcorders have an XGA OLED viewfinder with 100-percent field of view, and a 3-inch touchscreen LCD with swivel-mount. Connectivity includes component/composite/S-Video/HDMI outputs, USB, headphones, a mini-jack stereo mic input, Multi Interface Show, and a combo remote terminal and A/V remote terminal port.
The Sony NEX-VG900 Handycam will drop in late October, priced at $3,299.95 body-only, while the Sony NEX-VG30 will follow in November, priced at $1,799.95 body-only or $2,699.95 paired with the 18-200mm f/3.5-5.6 power zoom with optical image stabilization.