It's all about sound. And noise. Well, to Sony it is, at least. In a bit of a head-scratcher, Sony is releasing a new microSD card, called the microSDXC. This 64GB card is labelled as being "for Premium Sound", to which Sony hopes audiophiles everywhere will buy it. At $160, it's a lot pricier than similarly specced microSD cards. That massive price boost (like five-times as much) is explained away, where Sony explains it has "less electrical noise when reading data".

If you read that and said "uhh, what?", you're not alone. In fact, Sony themselves agree that their explanation is confusing, or possibly just total nonsense. Speaking to The Wall Street Journal, a Sony spokesperson had the following to say about the potential for this card:
We aren't that sure about the product's potential demand, but we thought some among people who are committed to great sound quality would want it.
Sony has no technical info for how their card will 'read less noise', either. Really, they're offering nothing more than a toe-dip into the abyss of baseless claims, with customers that will likely compel themselves to believe what they're being sold.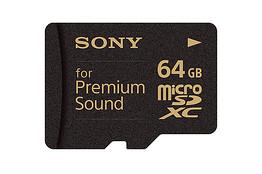 It's like the Pono player, which after a lot of hype has died as a result of science proving that 'premium sound' is likely nothing we can hear anyway.
This is also reminiscent of Sony's new-look Walkman, a Pono competitor. For well over $1,000, Sony wants to immerse you in premium sound — even though studies show what you get from an iPhone is about as premium as your delicate ears can even comprehend.
Rather than spend a ton of cash for 'premium', maybe you'd be best served waiting for Sony to prove their point. If Sony can improve what I hear via an SD card, I'm all ears — literally.
Source: The Wall Street Journal