Sony gets official with new Walkman wireless audio players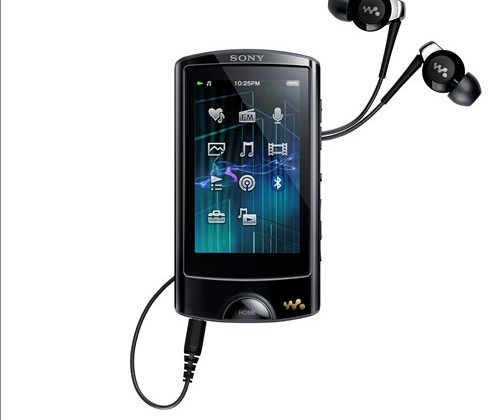 Yesterday a single press photo of a new Sony Walkman MP3 player leaked. Today Sony has gone official with the leaked A860 from yesterday and a bunch more new digital audio players. The first player, which was the one in the leaked photo yesterday, is the NWZ-A600 coming in 8GB to 64GB capacities. It has a 2.8-inch display and will play common music formats. It also supports MPEG4, AVC, and WMV9 formats for video. The battery is good for 23 hours of audio or five hours of video.
The player supports Bluetooth streaming and A2DP protocol. The A860 measures 51.8 x 96.9 x 9.3mm and weighs 77g. The S760 series comes in an 8GB or a 16GB version and has a 2-inch screen. It plays the same common audio files as its big brother the A860 and supports the same video files as well. It also has Bluetooth capability and will play 50 hours of music or 10 hours of video per charge. It measures 43.6 x 97.5 x 7.9mm and weighs 57g.
The E460 player will come in 8GB and 4GB flavors with a 2-inch screen and support for the same audio and video files as the previous devices. The main difference here is no Bluetooth support. Sony also unveiled the W260 player and it will come in 2GB or 4GB versions. It supports the common audio files of the others and has no display or video support. It will play music for five hours per charge. The W260 is the headphone player aimed at active folks. All of these new players will land at the end of August at undisclosed pricing.