Sony Walkman A Series Press Images Leaked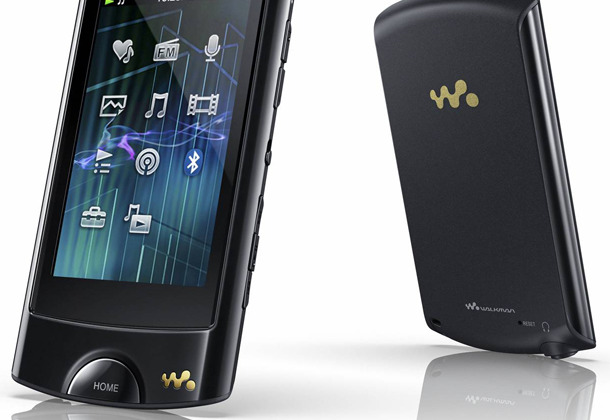 Everyone's favorite legendary name in personal music players, that being the Walkman, has been revealed to be expanding the family with the high-end Sony Walkman A series. UK retailer Play.com has created a placeholder spot for the new series of digital music players, this piece of industrial design looking rather different from all of its predecessors, it having a headphone jack at the bottom, a single thumb-indented Home button in the center bottom on the front, and the entire works looking rather like a smartphone with a large touchscreen taking up the majority of the real-estate. The back of the device has the Walkman "W" with only a smaller version of the text logo near the bottom and a reset button to keep it company – it's lonely there at the back.
The relatively large bezel around the display surrounds a 3.4-inch OLED touchscreen according to sources familiar with the production of the device. Both "wireless music streaming" and "wireless file sharing" have been listed in the technical specifications for the device, yet according to the original FCC listing for the same model, the Walkman A series [NWZ-A860] will not have Wi-Fi equipped. This device will almost certainly have Bluetooth, on the other hand, especially if it does aim to stream music.
This device will furthermore have an FM radio, Lyric display for songs, iTunes sync, and karaoke mode. Hardware includes a mostly aluminum chassis with navigation buttons, hold, and volume control up the right side of the device. According to Play.com, the release date for this lovely bit of music player to be July 31, 2011. Models appear to include an 8GB model aside 16GB, 32GB, and 64GB models as well.
Additionally, another Walkman model is in the works that looks rather like recent generations of iPod Nano, that being model number NWZ-S760. Images have been release by TheWalkmanBlog and can be seen below.
[via ABiPod]