Aiming to make public access to the 4K video resolution a bit more affordable (though not for lack of quality in hardware), Sony has this week announced the Sony FDR-AX1 4K Handycam. This device is able to record video at 4x the number of pixels offered with "Full HD", bringing this camera's video output up to 3840 x 2160 pixels. This device isn't going to be something you pick up at your corner camera shop – we're not quite there yet with this sort of quality – but it is the closest thing we've seen to a general consumer product able to record video at such high definition.
This device will be aimed at Early Adopters, Prosumers, and the Affluent, according to Sony, for those that want "the best of the best" as quick as possible.* Knowing that, you'll likely find it interesting that not all of the specifications for this device have been released in their entirety. For example the image processor: this device will be working with an "image processor used for professional models", says Sony, one that's specifically NOT Bionz in brand – and that's it.
*While this does mean that we'll soon understand how low Sony want to go for accessible pricing, at the moment we're awaiting word on a final release price for the masses. The same goes for release date on this monster of a video recorder.
Meanwhile the specifications we are allowed to know are top-of-the-line. The Sony FDR-AX1 works with a 1/2.3-inch back-illuminated Exmor R(R) CMOS sensor with an RGB primary color filter system and approximately 18900K pixel gross. Meanwhile this device works with an effective picture resolution at approximately 8300K pixels – that's one massive amount, to be sure.
The FDR-AX1 works with a Sony G Lens with Optical SteadyShot image stabilization and an aperture from F1.6 to F3.4. You'll have a focal length (35mm equivalent in Movie Mode) sitting at f=31.5-630mm and f=1 15/64-24 51/64inch, while your filter diameter is 72mm or 2 27/32inch. Around the neck of this beast you'll find an Iris ring, zoom ring, and focus ring, as well as 6 aperture blades up front.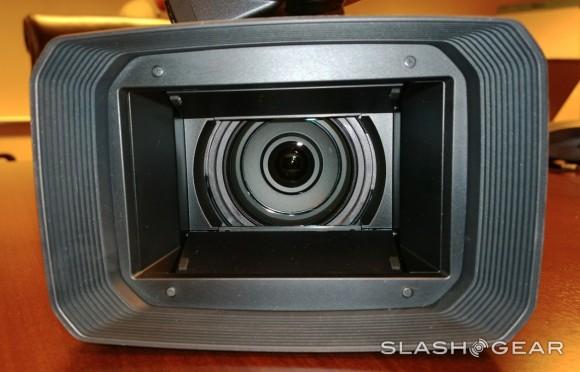 Users will have the option of working with this device's standard 0.45 type viewfinder (with backlight and power modes standard) or a lovely 3.5-inch Xtra Fine LCD. This display has a 16:9 aspect ratio and may or may not be working with touch by the time it's released (we'll let you know when we're sure).
The exposure system on this device works with multi-segment metering modes and both AE level and speed compensation. You'll have noise reduction, white balance modes for a variety of environments, and auto and manual iris control at F1.6 – F11.0. This system works with a minimum illumination at 60P : 4lux (1/30 Shutter Speed) (60P: 59.94P, 30P: 29.97P, 24P: 23.98P), or 50P : 3lux (1/25 Shutter Speed).
With that, you'll be working with XLR terminals for professional audio, XAVC S formatting for long 4K recording without trouble, and support of 4K/60p recordings right out of the box. This camera is able to output 4K images via HDMI cable (one of which comes bundled with the camera, of course) and works with relay recordings for ultra-quick transfer. Also available will be a mini-B USB 2.0 port for data transfer and mass storage as well as a Type A USB 2.0 port for the same basic purposes. You've also got a stereo Minijack headphone jack, XLR line input and microphone input, and (of course) a standard accessory shoe to connect a massive amount of bits and pieces in the future.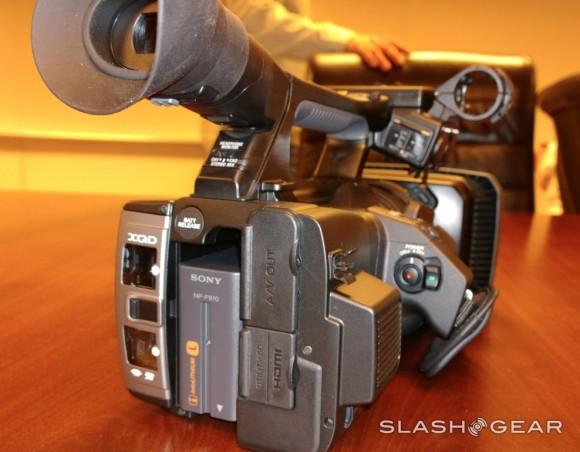 XAVC S is adopted in the Sony 4K Handycam with full 3840 x 2160 p resolution and an MP4 wrapper. You'll be able to record up to a 140 minute video at 60Mbps at 30, 25, or 24p – that's with a single 64GB memory card, mind you. This amps up to 168min of video on a 64GB card with Long 420 8 bit formatting. These 64GB bits of memory come in the form of two Sony XQD N Series memory cards – this camera can hold two of them at once.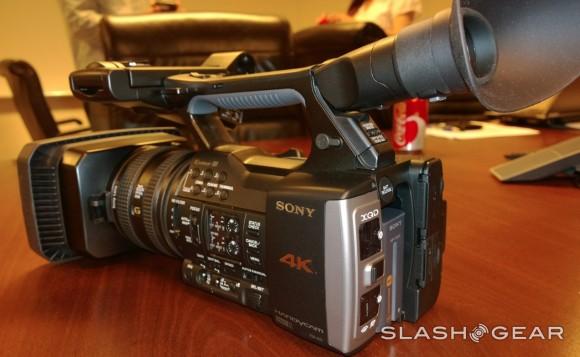 The back of this device works with two XLR ports for mics, and has three manual rings up front. There's a series of 6 custom buttons above the standard set of physical controls on the left side of the camera, each of which can be paired to your own desired toggles or settings.
The Vegas Pro 12 Edit suite from Sony is bundled with this device (with full XAVC S (4K/HD) support, of course – as is a single 32GB Sony XQD N Series memory card. We'll be getting more hands-on time with the Sony FDR-AX1 4K Handycam soon enough – for now: dream about affordability and more pixels than you know what to do with.