Sony Eyeing Android For Future Reader Devices?

Sony is apparently looking to Android for its future ereader plans, with a job listing spotted for a "senior staff software engineer (Android)" in the company's Digital Reader Business Division.  According to the job description – pulled from LinkedIn, but still in Google's cache (or you can read it in full after the cut) – the successful applicant will be involved in "developing application software for digital reading and other consumer electronic devices" based on the Android OS.
That seems to imply not only software for dedicated ereader devices, such as future iterations of Sony's Reader line, but potentially compatible Reader apps for the company's other hardware.  That would most likely include the Sony Ericsson line of XPERIA Android smartphones.
The listing also calls for familiarity with "Google Android SDK, Microsoft Windows, and/or Apple Mac OS X" which could imply desktop versions of the Reader app are on the way too.  Sony has seen its market share gnawed into by Amazon's Kindle and the (Android-based) Barnes & Noble nook.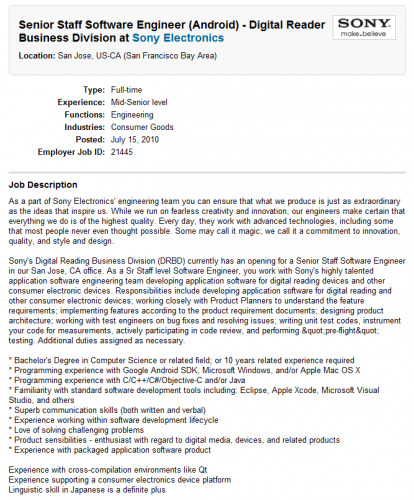 Job Listing:
Senior Staff Software Engineer (Android) – Digital Reader Business Division at Sony Electronics

Location: San Jose, US-CA (San Francisco Bay Area)

Type: Full-time

Experience: Mid-Senior level

Functions: Engineering

Industries: Consumer Goods

Posted: July 15, 2010

Employer Job ID: 21445

Job Description

As a part of Sony Electronics' engineering team you can ensure that what we produce is just as extraordinary as the ideas that inspire us. While we run on fearless creativity and innovation, our engineers make certain that everything we do is of the highest quality. Every day, they work with advanced technologies, including some that most people never even thought possible. Some may call it magic; we call it a commitment to innovation, quality, and style and design.

Sony's Digital Reading Business Division (DRBD) currently has an opening for a Senior Staff Software Engineer in our San Jose, CA office. As a Sr Staff level Software Engineer, you work with Sony's highly talented application software engineering team developing application software for digital reading devices and other consumer electronic devices. Responsibilities include developing application software for digital reading and other consumer electronic devices; working closely with Product Planners to understand the feature requirements; implementing features according to the product requirement documents; designing product architecture; working with test engineers on bug fixes and resolving issues; writing unit test codes, instrument your code for measurements, actively participating in code review, and performing "pre-flight" testing. Additional duties assigned as necessary.

* Bachelor's Degree in Computer Science or related field; or 10 years related experience required

* Programming experience with Google Android SDK, Microsoft Windows, and/or Apple Mac OS X

* Programming experience with C/C++/C#/Objective-C and/or Java

* Familiarity with standard software development tools including: Eclipse, Apple Xcode, Microsoft Visual Studio, and others

* Superb communication skills (both written and verbal)

* Experience working within software development lifecycle

* Love of solving challenging problems

* Product sensibilities – enthusiast with regard to digital media, devices, and related products

* Experience with packaged application software product

Experience with cross-compilation environments like Qt

Experience supporting a consumer electronics device platform

Linguistic skill in Japanese is a definite plus
[via The Digital Reader]