Sony Ericsson Zylo & Spiro Walkman phones debut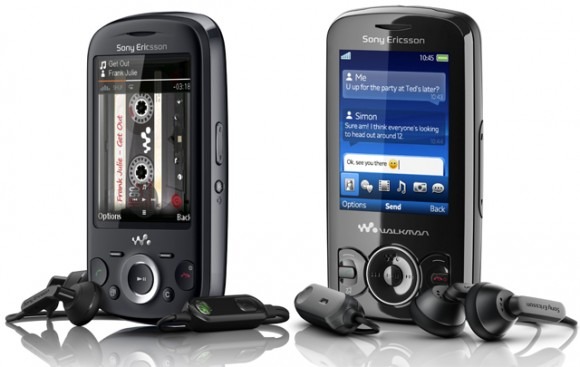 Sony Ericsson have announced two new Walkman-range cellphones, and they seem to have been looking in the Pokémon book of names for the duo.  The Sony Ericsson Zylo with Walkman and Spiro with Walkman each support FLAC lossless audio together with TrackID, but also throw in social networking integration with Twitter and Facebook.
The Zylo gets a 3.2-megapixel camera, 2.6-inch QVGA display, Bluetooth A2DP and a microSD card slot to augment the onboard 260MB of storage.  It has UMTS/HSPA together with quadband GSM and an FM radio, though no hardware GPS as far as we can see.  As for the Spiro, that has a mere 2-megapixel camera, a 2.2-inch QVGA display and no 3G, but keeps the Bluetooth and FM radio.  You'll definitely want a microSD card for it, however, as it has just 5MB of onboard storage.
Both the Zylo and the Spiro will arrive in "select" markets come early Q3 2010, with Sony Ericsson yet to announce pricing.  We can't say they're the most exciting phones we've ever seen, frankly, but we'd expect them to certainly lean toward the cheap side.
Press Release:
Sony Ericsson Zylo™ with Walkman™ and Sony Ericsson Spiro™ with Walkman™, Sony Ericsson's next generation of Walkman™ phones, offer an affordable entry point into Sony Ericsson's Communication Entertainment portfolio

April 13, 2010 – London – Sony Ericsson today announces a new duo which continues the iconic award-winning* Sony Ericsson Walkman™ phone legacy. With more than 130 million Walkman™ phones sold worldwide, Sony Ericsson now adds two affordable Walkman™ phones to its portfolio – without compromising on features.

Sony Ericsson Zylo™ and Sony Ericsson Spiro™ provide consumers with the best music experience they have come to expect from Walkman™ phones but go one step further and marry music with social networking. From Twitter™ to Facebook™, consumers can catch up with friends at just a touch of a button while still listening to their favourite music on the Walkman™ player. Another key function available on both phones is TrackID™ – which allows consumers to access the name and artist of a track they hear playing wherever they are. This function has proved popular with music lovers world-wide with 129million TrackID™ lookups in 2009 alone.

Sony Ericsson Zylo™ and Sony Ericsson Spiro™ also feature the human curvature design that is now consistent across the whole Sony Ericsson portfolio. Beautiful and timeless human curvature also incorporates an ergonomic keypad which makes the handset easy to use.

"The Sony Ericsson range of Walkman™ phones has seen tremendous success since it was first launched in 2005 having sold more than 130 million handsets to date – and we are still seeing a great appetite from consumers. Today's announcement aims to satisfy this demand by making the Walkman™ phone range available to a wider audience." Said Jenny Maltesson, Marketing Business Manager at Sony Ericsson.

"By combining the best of the Walkman™ functionality with a myriad of social networking capabilities, Sony Ericsson Zylo™ and Sony Ericsson Spiro™ offer consumers the chance to access and get a taste of what our Communication Entertainment portfolio has to offer," concluded Maltesson.

Sony Ericsson Zylo™ with Walkman™

Bought a song and dying to share it with friends? Consumers can play their favourite tune in the background while chatting away on their handset. The Sony Ericsson Zylo™ with Walkman™ also comes preloaded with sounds so consumers can pretend they are still at work, walking on the street or in a restaurant. The FLAC format, which debuts on this handset, allows consumers to experience superb sound.

Iconic Sony Ericsson Walkman™ music player

Superb sound with clear audio experience

High definition FLAC format – best sound quality ever on a mobile phone

TrackID™ – name that tune

PlayNow™ – shop in a music store 24/7

Stay connected with Facebook™ and Twitter™

Share photos on Flickr® and Picasa™

Upload video clips to YouTube™ with two clicks

Sony Ericsson Spiro™ with Walkman™

Enjoy best-in-class music experience with the Sony Ericsson Spiro™ with Walkman™. With the press of a button consumers get instant access to TrackID™ where they can discover millions of songs in seconds. Fancy a chat? Log onto Facebook™ or Twitter™ or chat via SMS with its easy-to-read conversation bubbles.

Iconic Sony Ericsson Walkman™ music player

Tunes on the go – 3.5mm jack, Bluetooth™ stereo and FM radio

TrackID™ – name that tune

Download the music from PlayNow™

Catch up with friends on Facebook™ and Twitter™

Sony Ericsson Spiro™ with Walkman™ supports GSM GPRS/EDGE 900/1800 and GSM GPRS/EDGE 850/1900 and will be available in selected markets from early Q3 in the colours Contrast Black, Sunset Pink, Spring Green and Stealth Black.

Sony Ericsson Zylo™ with Walkman™ supports UMTS HSPA 900/2100 and GSM GPRS/EDGE 850/900/1800/1900, UMTS HSPA 850/900/1800/1900 and GSM GPRS/EDGE 850/900/1800/1900 and will be available in selected markets from early Q3 in the colours Jazz Black, Chacha Silver and Swing Pink

Log on to The Sony Ericsson Product Blog for more information: http://blogs.sonyericsson.com/products

*W910 Walkman™ phone Best Handset at the GSM Association's 13th Global Mobile Awards 2008.

– ENDS –

Sony Ericsson Spiro™ with Walkman™

Camera 2.0 megapixel camera

2x digital zoom

Video recording

Music Bluetooth™ stereo (A2DP)

TrackID™

PlayNow™

Walkman™ player

Web

Bookmarks

Obigo Q7 web browser

Communication

Call list

Facebook™ application

Speaker phone

Twitter™ application

Vibrating alert

Messaging

Conversations

Picture messaging (MMS)

Predictive text input

Sound recorder

Text messaging (SMS)

Design

Picture wallpaper

Torch functionality

Wallpaper animation

Entertainment

FM radio with RDS

Java

Media browser

Organiser

Alarm clock

Calculator

Calendar

Flight mode

Notes

Phone book

Stopwatch

Tasks

Timer

Connectivity

3.5 mm audio jack

Bluetooth™ technology

Micro USB connector

USB mass storage

USB High Speed 2.0 support

Screen

262,144 colour TFT

2.2 inches

240 x 320 pixels (QVGA)

Accessories In-Box:

Sony Ericsson Spiro™ with Walkman™

Battery

stereo portable handsfree

Charger

User documentation

Optional:

Outdoor Wireless Speaker MS500

Hi-Fi Stereo Headset MH710

Facts 1)2) Size: 92 x 48 x 16.75 mm

Weight: 90 grams

Phone memory: Up to 5 MB

Memory card support: microSD™, up to 16 GB

Supported audio file formats: MP3/AAC/AAC+/eAAc+

Talk and standby times will be communicated through our product sites online at the time of launch.

Availability and versions Networks

GSM GPRS/EDGE 900/1800

GSM GPRS/EDGE 850/1900

Available in selected markets from Q3 2010

Colour Contrast Black

Sunset Pink

Spring Green

Stealth Black

Sony Ericsson Zylo™ with Walkman™

Camera 3.2 megapixel camera

2x digital zoom

Geo tagging

Photo feeds

Photo fix

Send to web (photos and videos)

Video recording

Music Album art

Automatic playlist creation

Bluetooth™ stereo (A2DP)

Clear bass

Clear stereo

PlayNow™

SensMe™

Shake control

TrackID™

Walkman™ player

Walkman™ styles

Web

Access NetFront™ web browser

Bookmarks

Google™ Search

Web feeds

Communication

Facebook™ application

Speaker phone

Twitter™ application

Vibrating alert

Video calling (main camera)

Messaging

Conversations

Email

Microsoft® Exchange ActiveSync®

Instant messaging

Picture messaging (MMS)

Predictive text input

Sound recorder

Text messaging (SMS)

Design

Auto rotate

Gesture control

Picture wallpaper

Wallpaper animation

Entertainment

3D games

FM radio with RDS

Java

Media browser

Music call

Music Genie

Video streaming

Video viewing

Walk Mate

YouTube™

Organiser

Alarm clock

Calculator

Calendar

Flight mode

Notes

Phone book

Stopwatch

Tasks

Timer

Location-based services Google Maps™

Connectivity

Bluetooth™ technology

Modem

Synchronisation

USB mass storage

USB High Speed 2.0 support

Screen

262,144 colour TFT

2.6 inches

240 x 320 pixels (QVGA)

Scratch-resistant

Accessories In-Box:

Sony Ericsson Zylo™ with Walkman™

Battery

Stereo portable handsfree

Charger

User documentation

Optional:

Motion Activated Headphones MH907

Snap-on Speaker Stand MS410

Facts 1)2) Size: 103 x 52 x 11.5 (16) mm

Weight: 115 grams

Phone memory: Up to 260 MB

Memory card support: microSD™, up to 16 GB

Supported audio file formats: MP3/AAC/AAC+/eAAc+/WMA/FLAC

Talk and standby times will be communicated through our product sites online at the time of launch.

Availability and versions Networks

UMTS HSPA 900/2100

GSM GPRS/EDGE 850/900/1800/1900

UMTS/HSPA 2100

GSM GPRS/EDGE 850/900/1800/1900

Available in selected markets from Q3 2010

Colour Jazz Black

Chacha Silver

Swing Pink