Sony Ericsson XPERIA X10 hands-on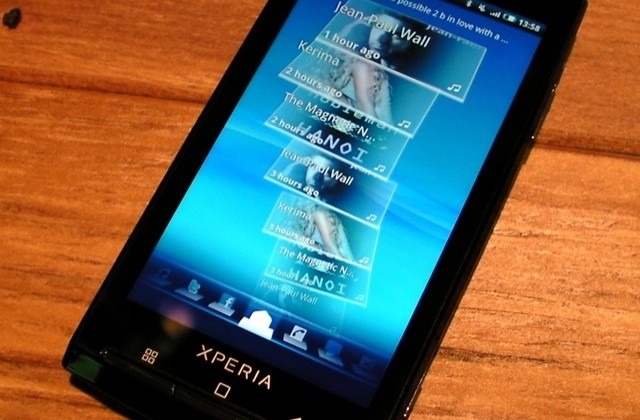 MWC 2010 isn't our first encounter with the Sony Ericsson XPERIA X10; after all, we joined the company in London back in November 2009 for the official launch of the Android smartphone.  What it is, though, is a good chance to catch up with a very much more optimized build.  The XPERIA X10's debut was marred by jittery performance and sluggishness in the company's custom apps, Mediascape and Timescape, leaving us somewhat unconvinced about the handset.  Happily – and handily, since Sony Ericsson tell us the X10 is mere weeks from launch in the UK – the current build is far more impressive.
Now that the code has been optimized, the different Timescape streams flick past smoothly and quickly.  The app pulls in SMS, MMS, email and calls, together with Facebook and Twitter messages, and can be viewed as a single, combined feed or individually.  Meanwhile tapping on the infinity icon pulls up all recent activity from that one contact.
As for Mediascape, that does a similar aggregating thing only for – as the name suggests – images, music and video.  Tap into photos, for instance, and not only will the XPERIA X10 show locally stored images but pull in those from online galleries you've entered login credentials for; tap into videos, and you'll see local and online content.  Hitting the infinity icon in any one piece of content will pull up similar local and online examples, such as YouTube videos.  Everything rendered snappily, and there was none of the lag that plagued the initial pre-production prototypes.
It adds up to a convincing smartphone, and while right now it's running Android 1.6 Sony Ericsson insist that a 2.x update is in the pipeline.  No timescale for that, however.  Interestingly, one of the things we predicted would likely happen – a rival would bring a similar system to market in the intervening period between Sony Ericsson announcing the X10 and it going on sale – has, to some extent happened, with HTC's new Friend Stream feature in HTC Sense.  We'll have to wait until we can test out both handsets before we can decide which works the best; until then, enjoy the new demo video!
Sony Ericsson XPERIA X10 demo:
[vms e5e9f6611e2ee05a31ce]