Sony Ericsson XPERIA Pureness Clear-Screen Cellphone Gets Video Demo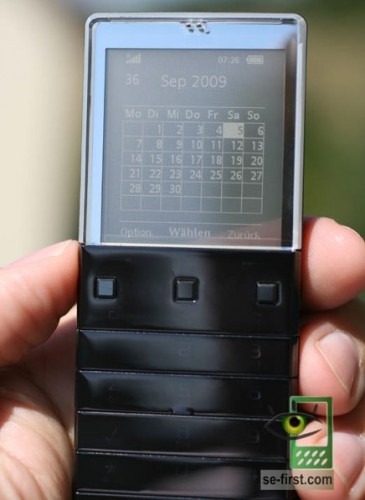 Sony Ericsson's XPERIA Pureness managed to split opinion last week, with some reckoning that the clear-display candybar was a triumph of design and new materials, while others dismissed it as a gimmick.  No matter the camp, though, we'll always welcome new images, and so SE-First's hands-on gallery and video with the XPERIA Pureness is a must-see.
Video demo after the cut
Sony Ericsson seem to have been concentrating so much on the glass display that they've forgotten about everything else you'll usually find in a cellphone.  Never mind no WiFi or GPS, there's not even a camera.  Still, with screen visibility so dependent on the background surface – don't even bother trying to check caller ID if the phone is on a white table – that's probably no great issue.
November 2009 will see the Pureness hit stores in select cities, and it will probably sell out quickly.  We're more excited about the longer-term implications; apps such as augmented-reality, which currently consume relatively large quantities of power thanks to relying on a constant video feed from the camera, could be far more frugal if you could actually see through the display, with details overlaid.  We may have to wait a while longer for that to come to fruition, however.
[via IntoMobile]