Sony Ericsson XPERIA Arc Review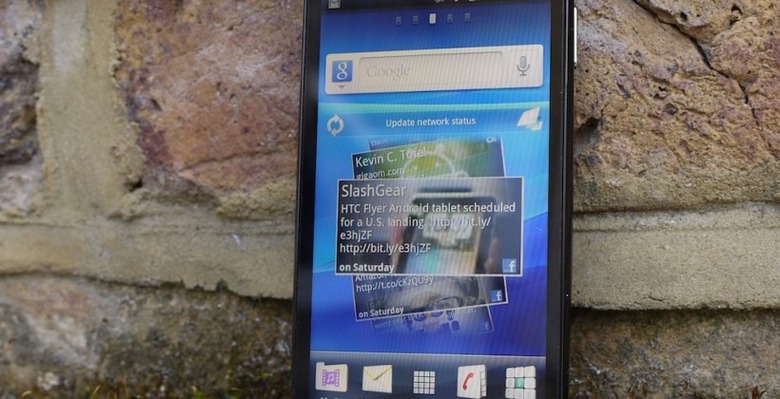 Sony Ericsson's 2010 Android range may have started promisingly, but software headaches undermined solid hardware and left many early-adopters with a low opinion of the company. 2011 is something of a relaunch for Sony Ericsson, then, with the XPERIA Play doing its level best to deliver the mobile PlayStation platform we've been expecting for years, and now the XPERIA Arc hoping to bring some of Sony's living room expertise to your pocket. Is the Arc the best Sony Ericsson handset to-date, and if so is it good enough to overshadow the competition? Check out the full SlashGear review after the cut.
Hardware
Making the "world's thinnest phone" is a common ambition among current smartphone manufacturers, but no matter whether the XPERIA Arc manages to grab the title or not, it's a slender, tactile device in the hand. Measuring 125 x 63 x 8.7mm and weighing 117g, the chassis may be plastic rather than metal – and not even soft-touch plastic at that – but it does bow nicely in the middle, making for a device that feels thinner than the spec sheet might suggest. Sony Ericsson's use of shiny chrome-effect plastic is an acquired taste, but at least it's limited to the buttons and edges.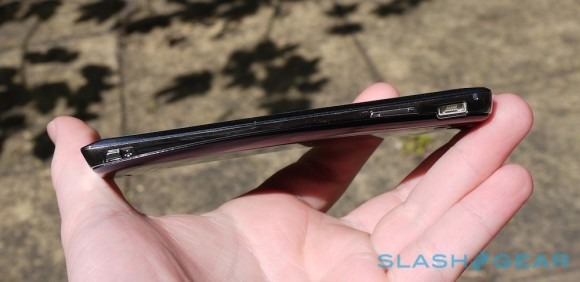 Sony Ericsson has dumped a dedicated search button in favor of three front-panel keys – back, home and menu – though you can call up search by long-pressing menu. Ports include a 3.5mm headphone socket on the left edge, a microUSB socket on the right edge – above a tiny, fiddly volume rocker, with a camera shortcut further down the side – and then a power/lock button (also pretty tiny and pretty fiddly) on the top next to a micro HDMI port covered with a little dust-flap. The plasticky battery cover – finished with a two-tone paint job – pops off to reveal both the microSD and SIM slots are blocked by the battery, so there's no hot-swapping to be done here.
Up front is arguably the Arc's crowning glory, a 4.2-inch 854 x 480 capacitive touchscreen that Sony Ericsson has seen fit to bless with ambitious "Reality Display" branding. It's 0.2-inches bigger than the XPERIA X10, and a smudge smaller than what you'll find on the HTC Desire HD and Samsung Galaxy S II. We'd obviously prefer to see qHD 960 x 540 resolution, as on Motorola's ATRIX and the upcoming HTC Sensation. A "regular" LCD TFT – rather than Super AMOLED or similar – it nonetheless does a decent job with visuals, although the viewing angles are on the narrow side. Blacks aren't quite as inky and captivating as on, say, Samsung's recent handsets, but it's a decent screen nonetheless.
Sony Ericsson XPERIA Arc overview:
[vms 046a66883807d18d0264]
Sony's branding gets called into play with the display too, thanks to the Mobile BRAVIA Engine (MBE). This, so the hyperbole goes, does a similar job to the BRAVIA tech in Sony's HDTVs, finessing video and images so that they look tip-top on the Arc's screen. While we're generally suspicious of image optimization – what you gain in sharpness you often lose in extra noise – there's no denying that multimedia on the Arc does end up looking better than in its untampered state. MBE can be turned off, though there's no quick way to do it mid-playback so that you can really see the difference (Sony Ericsson has previously rigged a few demo handsets that could quickly toggle between, and that made it a lot easier to see the impact MBE makes). It's a multimedia-centric feature, too, rather than a global one, so you can't have MBE processing in the browser or games, for instance. That can leave streaming video in the browser – the Arc supports Flash Player 10.2 – looking a little dull in comparison.
Keeping the XPERIA Arc running generally is Qualcomm's 1GHz MSM8255 processor paired with Adreno 205 graphics and 512MB of RAM. There's 1GB of ROM, along with an 8GB microSD card in the box. GPS/aGPS, ANT+ wireless – for hooking up to suitably-compatible pedometers and other accessories – and the usual WiFi, Bluetooth and proximity/digital compass/accelerometer sensors round out the main specs.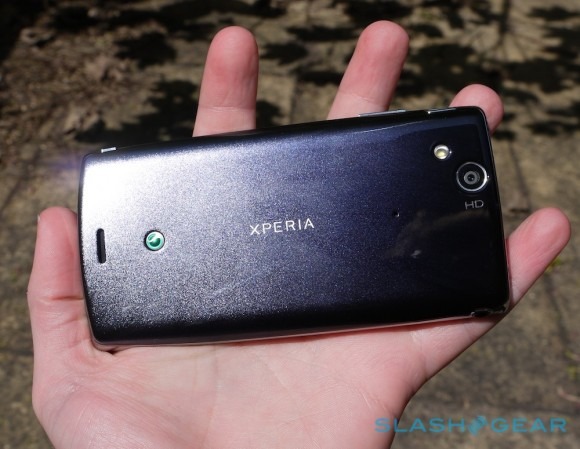 On the back is an 8.1-megapixel camera paired with autofocus and an LED flash. This uses one of Sony's Exmor R for mobile CMOS sensors and is capable of 720p HD video recording. As you'd expect from a multimedia-centric device, there's plenty of choice in the settings modes; we'll cover the camera in more detail later on in the review.
Software and Performance
As you may have gathered, the XPERIA Arc is a reasonably current-spec handset with some stand-out ticks on the product sheet. They're enough to keep Android 2.3.2 Gingerbread running smoothly, even with Sony Ericsson's UI tweaks. As on the XPERIA Play, these involve reskinning the regular Android interface with a clean blue and silver theme and then preloading some apps including the "falling panes" Timescape social networking software and Mediascape media player. Unlike on the X10, these have been detached from the underlying OS – Timescape is little more than a homescreen widget now – so that Sony Ericsson's engineers should have less issues pushing out timely platform updates.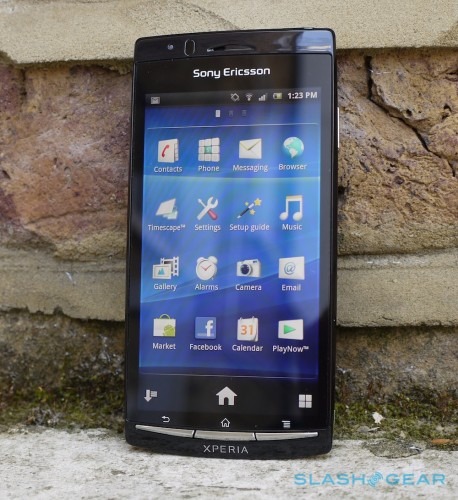 It all moves slickly and looks good, though by opting for a single-core processor rather than a dual-core Sony Ericsson has potentially given Arc owners a headache as Android builds – and Android apps – become more hardware-intensive. Right now it's not really an issue, but whether the same will hold true halfway through the average two-year agreement remains to be seen. In terms of pure benchmarks, Quadrant offered up a score of 1179 – putting the Arc mid-league – while browser test SunSpider ran in 5534.8ms (lower is better).
Camera and Multimedia
Multimedia – whether capture or playback – is the XPERIA Arc's key value proposition, and happily it's a solid performer. The 8.1-megapixel camera is definitely a legitimate alternative to your trusty point-and-shoot, with surprisingly good low-light performance thanks to the back-illuminated Exmor R for mobile CMOS sensor. That's a step up from the regular sensors you'll find on cellphones, and means you can avoid the LED flash more often which has the usual narrow cone of effect and a tendency to overpower nearby subjects.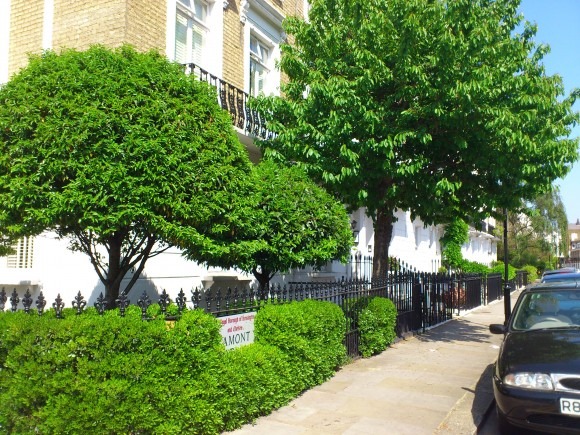 Just as Sony does some processing with its MBE, so the Exmor R camera can't resist tinkering with your stills, and the Arc seems to have a preference for ramping up the color saturation in the interest of making poppy pictures. Most of the time that's acceptable, though the option to leave shots as-is would be nice. The digital image stabilization is passable, and there are various smile-detection and face-detection modes to play with in Sony Ericsson's modified camera app UI.
Video can be recorded in up to 720p HD, a step down from the 1080p capabilities we're seeing on the latest dual-core Android handsets. Sony Ericsson has fitted a rear microphone to better capture noise, and that works well; the CMOS sensor is also strong in low-light conditions, picking out detail where other phone cameras demanded we turn the LED flashlight on. There's some blurring as the Arc's processing has its way, and again no way to shut it off.
720p HD video sample:
The HDMI output – which uses a regular micro HDMI to HDMI cable, sadly not included in Sony Ericsson's retail packaging – squirts out everything you can see on the Arc's display, not just video content. It defaults to the landscape orientation of any apps which support that view (i.e. not the Android homescreen or app menu) though while some TVs will apparently allow you to navigate the screens using the color buttons on your remote, we had no luck with our Samsung test set.
Missing from the Arc – indeed from all four of Sony Ericsson's XPERIA phones so far announced for 2011 – is a front-facing camera, which means video calling is out of the question.
Phone and Battery
As a phone, we got above-average audio performance and signal strength from the Arc. Sony Ericsson's Noise Shield feature didn't particularly make itself known, and the speakerphone was relatively anaemic, likely a constraint of the size of the speaker itself.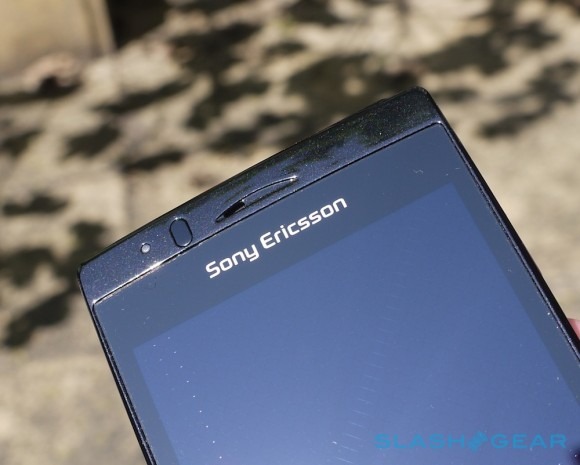 Sony Ericsson estimates battery life at up to 7hrs of 3G talktime or 400hrs of 3G standby; alternatively, you could listen to 31hrs of music. In practice, with a mixture of push email, browsing, Google Maps, media playback and photography, the 1,500 mAh battery made it through into the evening, though after a session plugged in via HDMI and playing back HD video, it expired more quickly. Thanks to the HDMI and microUSB ports being separate, however – unlike the dual-connection used on, say, Samsung's Galaxy S II – you can keep the Arc plugged into the mains while it's simultaneously outputting video.
Price and Value
After the wallet-busting XPERIA Play, we had some price worries about the waifish Arc. Happily they haven't panned out: Sony Ericsson is asking around £420 ($694) for the unlocked, SIM-free handset. Opt for a monthly plan and you're looking at a free phone on a £25 per month, two-year agreement.
That puts the XPERIA Arc on a par, price-wise, with the HTC Desire HD. The HTC has a slightly bigger screen but a less impressive camera, and is an altogether heavier and bulkier – if sturdier – device. Give dual-core handsets are going to be around £10 ($17) per month more – or near £500 ($826) SIM-free – then the XPERIA Arc starts to look like something of a bargain.
Wrap-Up
If the XPERIA Play failed to persuade us that it was the future of mobile gaming, the Sony Ericsson XPERIA Arc has no such caveats when it comes to solid multimedia and all-round performance. No, it doesn't have a dual-core processor or record Full HD, but it also has a relatively low price tag and still manages to pack its functionality into an impressively slimline chassis.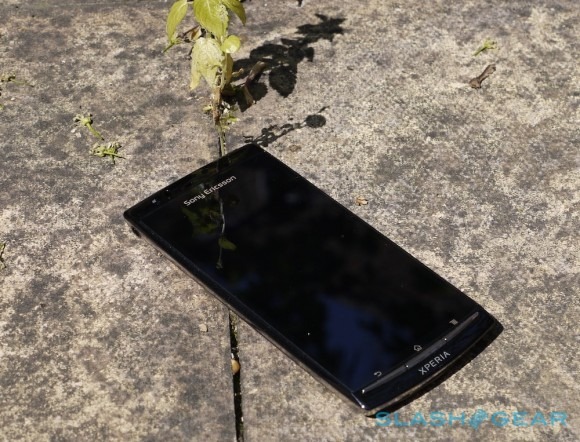 What Sony Ericsson still has to do, however, is convince Android users that it can deliver on timely software updates. The XPERIA X10 debacle, with Gingerbread only grudgingly being promised after months of complaints, has left plenty of suspicion; it will take the first significant firmware update to prove whether or not Sony Ericsson's earnestly-professed new leaf truly has been turned.
Nonetheless, we always say you should buy a device because it satisfies you today, not for what it might do tomorrow, and on that front the XPERIA Arc is a solid choice. It's certainly the best Sony Ericsson handset around today – in fact the best we can recall in quite some time – and it's strong enough to take on much of the current Android segment too.