Sony Ericsson XPERIA Arc hands-on [Video]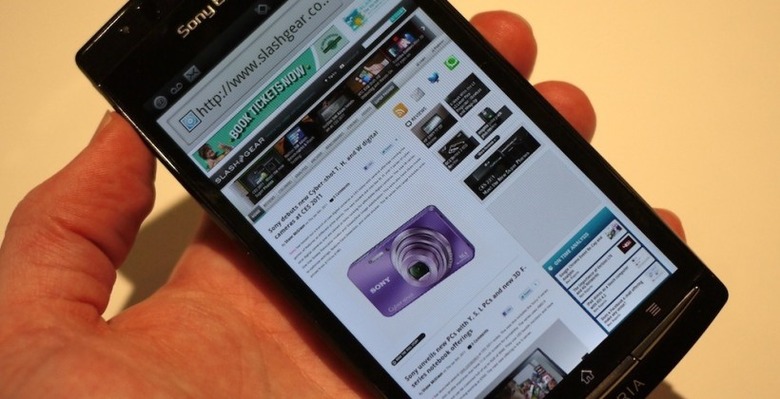 Sony Ericsson has certainly kicked off their 2011 in a strong way, launching the XPERIA Arc at CES 2011 yesterday. We grabbed some hands-on time with the XPERIA Arc today and came away suitably impressed; it's not only thin – 9mm at the ends, and just 8.7mm in the middle – but the 4.2-inch Reality Display takes on Super AMOLED and holds its head up high. More details after the cut.Video hands-on after the cut
It's certainly a narrow phone, almost indecently waifish compared to Samsung's similarly-curved Galaxy S. A little on the wide side, but it fits the hand nicely. The Reality Display screen sounds like PR hype but it's one of the best TFT-based displays we've experienced, crisp and bright with broad viewing angles. Sony's BRAVIA Engine makes an appearance, bringing noise reduction, sharpness tweaking, color management and contrast enhancement; you can turn it on and off in the Arc's settings, and while the difference is relatively minor it is noticeable. There's a demo on a modified Arc – on which the volume control toggles the BRAVIA Engine on/off – in the video below. Sony Ericsson insists that it won't impact battery life, either.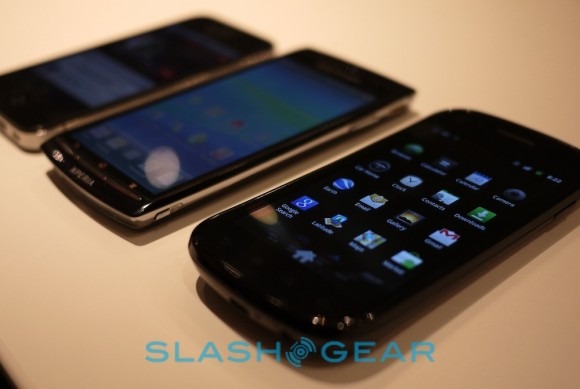 The processor may only be a single-core 1GHz Qualcomm Snapdragon chip, but it's still fast and Gingerbread flicks through its pages quickly. Sony Ericsson has slimmed down their Mediascape and Timescape elements; the former gets an optional media widget on the homescreen, while the latter is now slimmed-down and optional rather than mandatory to use. They're also been uncoupled from the underlying Android OS, which Sony Ericsson says will allow them to upgrade the platform far quicker than on the X10 and other variants. One of the company's 2011 priorities is to push out upgrades on a more timely basis.
Sony Ericsson XPERIA Arc hands-on:
[vms 6b460ec00c5841019b9e]
Conspicuous by their absence are NFC – Sony Ericsson say they're investigating it for future devices – and a front-facing camera; there's also no PlayStation gaming integration, nor media downloads with Sony's Qriocity service. That could come, though; the SE team are in talks with Sony about a partnership later in the year, though it'll be an optional system rather than the only way to get new content onto future Sony Ericsson handsets.
The HDMI port works as it should, and there's DLNA support which will work with Sony and non-Sony hardware. The HDMI output itself will not only show photos and video but, like on Nokia's N8, replicate the entire Arc display, opening the door to big-screen browsing. A future firmware update will add compatibility with Sony's BRAVIA Link system, meaning other Sony hardware will be able to remotely control the Arc.
Release is expected in Q1 2011, though Sony Ericsson does say that it will be at the back end of the quarter. No word on pricing nor carriers, though in the UK the XPERIA Arc is likely to launch on all of the major operators.