Sony Ericsson Vivaz Pro Hands-On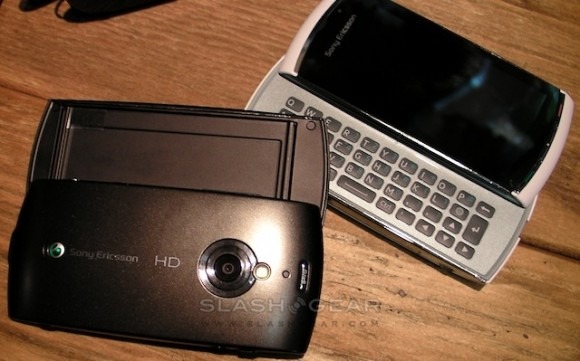 Sony Ericsson's Vivaz pro potentially has a tough sell on its hands: its XPERIA siblings, like the X10 and the new X10 mini and X10 mini pro, have an arguably more eye-catching OS in Android, and a more impressive UI in the form of Timescape and Mediascape.  In contrast, the Vivaz and Vivaz pro both get S60, albeit with a little of Sony Ericsson's own tweaking.  Hands-on, both devices feel lighter than they look, though on the downside we weren't entirely convinced by the quality of the plastics.
Sony Ericsson are heaping emphasis on media for the Vivaz and Vivaz pro, boasting that they're the company's first smartphones to record 720p HD video.  The Vivaz has an 8.1-megapixel sensor; the Vivaz pro had a choice of sacrificing battery capacity or camera resolution to fit in the slide-out QWERTY keyboard, and so to maintain all-day runtimes they dropped the CMOS to 5.1-megapixels.  Both get separate still and video capture buttons, and there's one-touch uploading of photos and footage to various online galleries.
Like we saw on the Satio, Sony Ericsson have made some changes to incorporate social networking into the galleries, and Facebook photosets are included with local shots.  You can also call up Facebook comments directly over the image, and reply directly; the slide-out QWERTY does make that easier.
Imaging credentials aside, though, we're leaning more toward Sony Ericsson's Android-based range than their S60 devices.  We'd gladly welcome a "pro" version of the XPERIA X10, with a slide-out QWERTY keyboard; according to Sony Ericsson, that smartphone will be arriving on the UK market in a matter of weeks.
Sony Ericsson Vivaz pro demo:
[vms 30c13a05a3ed7e599d5f]