Sony Ericsson T715 gets HSPA, Exchange ActiveSync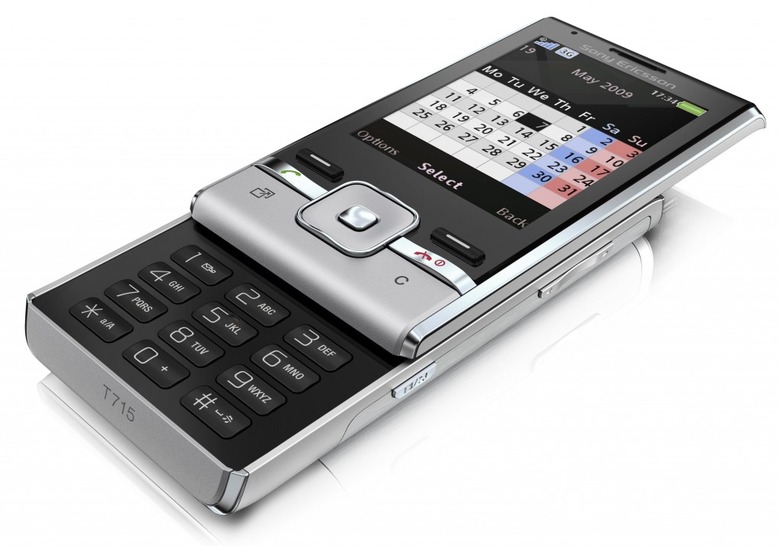 Sony Ericsson have announced a new entry-level cellphone, the T715, offering 3G connectivity, a 2.2-inch 240 x 320 LCD display and a 3.2-megapixel camera.  The handset differs from the usual run-of-the-mill consumer device by adding Exchange ActiveSync support to the normal IM, MMS and SMS messaging; it also comes loaded with Google Maps.
The T715's A-GPS is used for directions and also for geotagging photos.  Sony Ericsson have loaded on a YouTube viewer and the NetFront browser, which take advantage of the handset's quadband GSM/GPRS/EDGE and HSPA (both a 2100MHz UMTS model and a 850/1900/2100MHz UMTS model, the T715a, will be released).  Internal storage is 90MB, augmented by microSD card, and the whole thing weighs 96.5g and measures 91.5 x 48 x 14.9mm. 
GSMHelpdesk.nl had a chance to go hands-on with the T715, and you can see some of their live photos in the gallery below.  The shots seem to confirm that it's quite a chunky device, but they praise its full feature-set and media functionality.
The Sony Ericsson T715 will go on sale in Q3 2009, price tba.  There's also a new Bluetooth headset, the VH310, which weighs 10g and offers up to 500hrs standby or 11hrs talktime.  Again, no pricing details have been released.
Press Release:
The Sony Ericsson T715 – a sophisticated slider phone that fits your lifestyle

The Sony Ericsson T715 allows consumers to stay connected without any compromise on communication features or design. An ultra compact slider mobile phone, the T715 still offers a large keypad and font size allowing you to get the most out of your SMS, MMS or email management.

London – June 25, 2009 – Keep yourself organised in an intuitive way with the T715's smart desktop feature, direct reminders of appointments, notes and special animation to remind you of birthdays and global events. Messaging is quick and easy with the ability to review the history of your conversation as you go along.

Need to access the internet? The turbo 3G network connection allows stress-free fast browsing and the large 2.2" screen shows off websites in all their glory – even in direct sunlight! The T715 comes complete with Google Maps™ including local search and directions and AccuWeather.com® – giving you access to three day weather forecasts so you'll never be caught short without an umbrella or your sunglasses.

At the size of a credit card and with a high-class finish, the T715 adds a touch of sophistication to your life. Whip it out and snap high quality pictures even in a dark environment with the 3.2 megapixel camera with Photo light.

The sophisticated Sony Ericsson design means the T715 will look at home wherever you are, whether it's at an important business meeting or if you are joining your friends for lunch.

"The T715 is a sophisticated slider mobile phone that fits a busy lifestyle and is perfect for those who are looking for a phone with practical and up-to-date features" said Quentin Cordier, Marketing Business Manager at Sony Ericsson. "Building on our current 3G portfolio, the T715 allows us to bring 3G mobile phones to even more markets giving them high speed internet access wherever they are. With a premium brushed aluminium cover and glossy front, this new mobile phone demonstrates the sophisticated design language consumers have come to expect from Sony Ericsson."

The Sony Ericsson T715

Practical design for best use of communication features:

Elegant and compact slider – looks sophisticated no matter what the setting

Large keypad and font size – get the most out of your SMS or email management

3G network connection – quick and easy internet browsing

Large 2.2" screen – even in direct sunlight

Smart desktop and birthday reminders – organise your life in an intuitive way

3.2 megapixel camera with Photo light – perfect pictures no matter what the lighting conditions

Also announced today is the Bluetooth™ Headset VH310 – made to fit everyone. The VH310 gives you handsfree freedom with no wires, no worries and weighing only 10 grams. The VH310 lasts for more than 20 days on one charge.

Bluetooth Headset VH310

Designed for comfort – made to fit

The perfect fit – three earpieces and two removable ear hooks

All day comfort – weighs only 10 grams!

Talk, talk, talk – more than 20 days of life on one charge

The T715 supports HSPA 2100 and GSM/GPRS/EDGE 850/900/1800/1900 and the T715a supports HSPA 850/1900/2100 and GSM/GPRS/EDGE 850/900/1800/1900. The T715 will be available in selected markets in the colours Galaxy Silver and Rouge Pink in the third quarter 2009.

The Sony Ericsson T715 phone at a glance

Camera

3.2 megapixel camera

Up to 3.2x digital zoom

Photo fix

Send to web

Video recording

Music

Album art

Bluetooth™ stereo (A2DP)

Media player

MEGA BASS™

Music tones (MP3/AAC)

PlayNow™

TrackID™

Web

Access NetFront™ web browser

Bookmarks

Google™ search (from standby)

Photo feeds

Web feeds

Communication

Speakerphone

Vibrating alert

Video calling (main camera)

Messaging

Conversations

Microsoft Exchange ActiveSync®

Instant messaging

Picture messaging (MMS)

Predictive text input

Sound recorder

Text messaging (SMS)

Design

Media

Picture wallpaper

Torch functionality

Wallpaper animation

Entertainment

3D Games

FM radio with RDS

Java

Video streaming

Video viewing

YouTube™

Organizer

Alarm clock

Calculator

Calendar

Flight mode

Notes

Phone book

Stopwatch

Tasks

Timer

Location-based services

Geo tagging of photos (cell-id)

Google Maps™

Connectivity

Bluetooth™ technology

Modem

PictBridge printing

Synchronization

USB mass storage

USB support

Accessories

In-Box:

T715

Battery

Battery Charger

Stereo portable handsfree

User book

Optional accessories:

Clip-on Bluetooth™ Handsfree VH300

Power Pack CPP-100

Design collection IDC-31 Courtside Case

Facts and Figures

Size: 91.5 x 48 x 14.9 mm

Weight: 96.5 grams

Colours: Galaxy Silver (piano finish), Rouge Pink (mirror finish)

Main screen: 262,144 colour TFT,

Resolution: 240 x 320 pixels (QVGA)

Size: 2.2 inches

Phone memory: Up to 90MB

Memory card support: SanDisk microSD™

Talk time GSM/GPRS: Up to 10 hrs

Standby time GSM/GPRS: Up to 400 hrs

Talk time UMTS: Up to 4 hrs

Standby time UMTS: Up to 350 hrs

Video call time: Up to 3hrs

Availability and versions

Networks

T715: GSM/GPRS/EDGE/850/900/1800/1900

UMTS HSPA/2100

T715a: GSM/GPRS/EDGE/850/900/1800/1900

UMTS HSPA 850/1900/2100

The T715 will be available in selected markets in the third quarter 2009

The Sony Ericsson Bluetooth™ Headset VH310 at a glance

Materials

Plastic

Standby/talktime

Up to 500hrs/11hrs

Size

48x11.5x17.4

Weight

10g

Colour

Silver, Black

Compatibility

Most Bluetooth™ phones from SEMC and other brands

In the box

3 ear pieces and 2 removable hooks

Legal

1) Facts and features may vary depending on local variant.

2) Talk and standby times are affected by network preferences, type of SIM card, connected accessories and various activities e.g. games. Kit contents and colour options may differ from market to market. The full range of accessories may not be available in every market.

© Sony Ericsson Mobile Communications AB, 2009.