Sony Ericsson preparing XPERIA X2 for Wednesday reveal?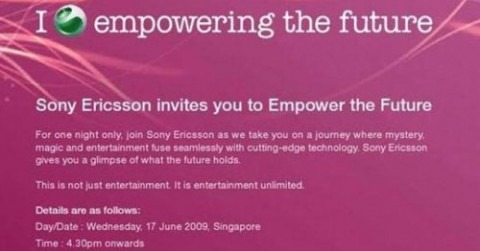 Sony Ericsson's last event delivered the Satio, Yari and Aino, but according to the latest rumors the company might be bringing along their XPERIA X2 to another press launch later this week.  Set to take place tomorrow, Wednesday 17th, in Singapore, there's no solid connection with the XPERIA X2, but the abundance of leaked photos and information about the upcoming smartphone would certainly suggest its nearing announcement.
According to Electronista, the event this week has been linked to both the X2 smartphone and a new Bluetooth headset.  Judging by the wording of the leaked invite itself, the launch will obviously have a heavy entertainment focus; it's possible that Bluetooth headset could in fact be a stereo A2DP set for multimedia use.
As for the XPERIA X2, that's expected to run Windows Mobile 6.5 with Sony Ericsson's own Panels UI on top, and use a 3.5-inch OLED touchscreen.  It also has an 8.1-megapixel autofocus camera, slide-out QWERTY hardware keyboard and a faster processor than its X1 predecessor.