Sony Ericsson P1 smartphone flawed by US 3G omission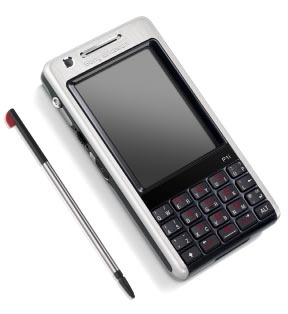 After P800, P900, P910 and P990, where do you go?  Well, if you're Sony Ericsson's naming team you say "sodcakes to it" and aim for number one; or, in this case, P1.  The latest in SE's established touchscreen smartphone range, the P1 is notable not least for doing away with the design ethos that had evolved from the pastel-pretty original through to the slitty-keyed also-ran blessed with WiFi and Symbian's UIQ OS.
Instead the P1 takes a leaf out of the M600's design portfolio, sporting the same rocker-style QWERTY keys and a generally more streamlined chassis.  Inside, the biggest disappointment is the lack of US-band HSDPA – if you're in the 'States you're stuck with tri-band GSM (900/1800/1900MHz) and WiFi in just b flavour, although happily the European 2100MHz 3G band is supported - and while the 3.2-megapixel camera with autofocus and macro mode specially designed to 'scan' in business cards and import them directly into the contacts directory is good, it doesn't make up for the missed US mobile broadband opportunity.
Especially since I'm sure the rest of the P1 will be just great for browsing.  The much-loved Opera 8 browser is there, as is a preloaded RSS reader and downloadable photo blogging app.  Portable entertainment is catered for too, with an FM tuner (with, surprisingly, RDS), DAP capable of playing most major formats, and even streaming TV functionality, though I doubt you'd be doing much of it over GPRS.
A VoIP client is there, though I'm sure over-anxious carriers will soon have that removed, and it's push email compatible.  Internal memory adds up to 160MB, but SE bundle a 512MB Memory Stick Micro to remind you that they're still flogging that wretched flash format.
The P1 should hit stores in what they're calling "selected markets" in third-quarter this year.
Thanks to pb for their help clearing up the US/Euro band confusion.
Sony Ericsson P1 [MobileBurn]