Sony Ericsson MS500 Bluetooth Splashproof Speaker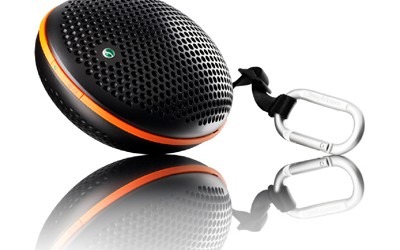 Sony Ericsson have announced a portable Bluetooth speaker that, thanks to a splash-proof casing, is suitable for outdoor use.  The Sony Ericsson MS500 measures 113 x 83 x45 mm and runs for up to 5hrs on two AA batteries; it uses the Bluetooth A2DP profile for stereo streaming from a cellphone or PMP, and the AVRCP for remote control.
Given that it's a palm-sized device, audio output isn't going to be anything approaching high quality.  The MS500's amp outputs a mere 2W, though Sony Ericsson have loaded in some DSP to supposedly enhance the audio. 
Two color options are available – black and orange, and white and pink – each with a lanyard wrist-strap.  Wireless range is 10m and there's volume and track control keys on the MS500 itself.  No word on pricing or availability.
Press Release:
Accessorise your life with music and Sony Ericsson's first outdoor Bluetooth™ speaker.

Listen to your favourite sounds while on the move with the trendy Outdoor Wireless Speaker MS500. A first for Sony Ericsson, the colourful and powerful Bluetooth™ speaker gives you a festival experience wherever you are or want to go!

London, March 17, 2009 – Whether hanging out on a beach or enjoying urban life, the superior sound quality and cool design of the MS500 will impress all your friends.

Available in trendy orange and black or chic white and pink the MS500 speaker is the ultimate accessory for any dedicated pop rocker or dancing queen – small enough to fit into the palm of a hand and so light it can be taken anywhere and everywhere.

The MS500 speaker is designed for the outdoor environment with a durable splash proof shell and a handy strap which makes it perfect for attaching to a bag, or hanging from the wrist. This makes it an ideal outdoor accessory for everyday use and ensures your music will still be heard loud and proud.

The Bluetooth™ technology enables your phone to be used as a remote control to change tracks and increase volume, allowing you to just sit back and relax with music without the need to move. Simply connect the speaker to any mobile handset within a 10 metre range and in just seconds hear your favourite songs blast out, with clear treble and rich bass.

Additionally you don't have to deal with the hassle of wires or the need of a charger as it's powered by two AA batteries, which allows you to immerse yourself in music for up to five hours!

The Outdoor Wireless Speaker MS500 is compatible with most Bluetooth™ phones from Sony Ericsson and other brands.

The designer of the MS500 Wireless Outdoor Speaker, Leonardo Salzedo comments: "If I had to describe the MS500 speaker in three words, I would use the following; fun, compact and freedom. The word freedom has various meanings, as it refers to the speaker's lightweight, small, splash proof shell, which enables you to take it with you everywhere and anywhere. No cables allow freedom of movement and a handy strap enables you to hang it from the wrist or attach it to clothing, so you have the ability to stylishly accessorise your life with music."

For further information visit http://www.sonyericsson.com/cws/products/accessories/overview/hbh-is800?lc=en&cc=gb

The Sony Ericsson MS500 speaker at a glance

Design

Colours: Black and orange (carbine hook) and White and Pink (white strap)

Materials: coloured plastic

Size: 113 x 83 x45mm

Weight: 155g with batteries/ 105g without batteries (2 AA batteries are included in the package)

Technology

Steaming music: Up to 5hrs

Efficiency: 2 watts

DSP for audio enhancement

Bluetooth™ version: 2.1 + EDR

Bluetooth™ profile: A2DP, AVRCP

Bluetooth™ profile: 10m

Compatibility

Most Bluetooth™ phones from SEMC and with A2DP, plus other brands

Legal

1) Facts and features may vary depending on local variant.

2) Talk and standby times are affected by network preferences, type of SIM card, connected accessories and various activities e.g. games. Kit contents and colour options may differ from market to market. The full range of accessories may not be available in every market.