Sony Ericsson MH907 SensMe headphones review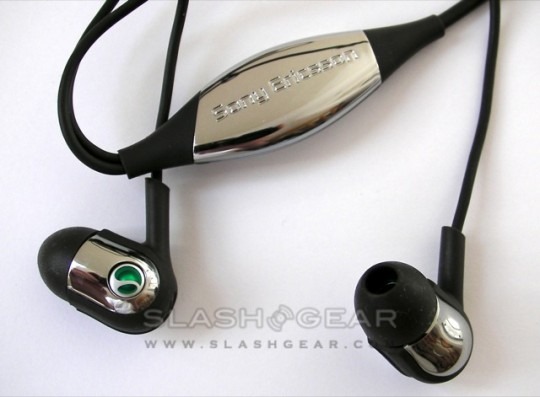 Sometimes it's simple ideas that are the best, and Sony Ericsson's SensMe system is a good example. Used for the first time in the Sony Ericsson MH907 headphones, SensMe remotely-controls music playback and voice calls via sensors in the earbuds themselves. Gimmick or must-have accessory? Check out the SlashGear review after the cut.
The MH907 headphones are visibly no different to a standard hands-free kit, with a pair of chrome-effect plastic earbuds and a chunky chrome-effect microphone block. There are no hardware controls; instead, the MH907 uses capacitive touch sensors in the earbuds to track whether you're wearing them. That "intelligence" relies on the host device to process what the MH907's sensors are saying, which means you'll need a Sony Ericsson device with the company's proprietary Fast Port connector.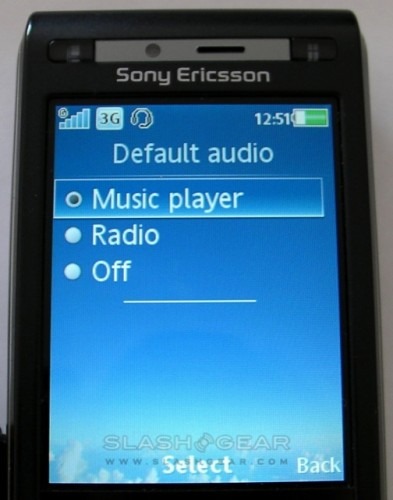 Plugged in, a new menu shows up in the Accessories list on a SE device's Settings page. This allows you to switch the sensors on and off (off, they work just as a pair of headphones), change the default action (Music Player, Radio or Off) triggered when you insert both earbuds into your ears, and view the software version. The default behavior sees the MH907 load up the phone's Music Player when you put in the earbuds, and start playing a track; subsequently taking one or both out pauses the music. If the Music Player or Radio are already active, merely putting in a single earbud will begin playback.
Should a call come in, meanwhile, putting in one or both earbuds will automatically answer it and switch on the MH907's microphone. Pulling them out then ends the call. If, say, you're already listening to music when the phone rings, pulling out a single earbud and then reinserting it pauses the music and answers the call. To prevent accidentally pausing audio or cutting off a call if you mistakenly yank out an earbud, there's a two second delay; that proved just enough to not introduce a frustrating pause, but enough to give us time to fumble the earbud back in.
In fact, the system works very well in general. Sony Ericsson wisely haven't attempted to stuff the MH907 with different functions – there's no complex tapping or multiple inserting/removing codes for track skipping or speed-dials – which means the headphones pretty much always do what you expect of them. Switch on the "Play caller name" feature found on some of the company's cellphones and you won't even have to pull the phone out to see who's calling. Sony Ericsson's supplied rubber ear-plugs come in three sizes, which meant we had little trouble finding a set that fits, and there's also a small clip which you can optionally use to keep the cord from flailing.
As for sound performance, at €39 ($58) the Sony Ericsson MH907 headset isn't going to best, say, a dedicated pair of mid- to high-end aftermarket music headphones, but it holds up well to the standard wired handsfree kit bundled with most cellphones. Bass lacks some definition and the trebles aren't quite as crisp as we'd like, but this is certainly par for the course given the price point. Voice call performance, meanwhile, produced no complaints.
Our biggest disappointment, then, is the fact that SensMe is limited to Sony Ericsson devices. We'd like to think that future models of headset might put the brains of the system into the microphone block, rather than rely on the phone, translating the touch-sensors messages into standard wired remote pulses as used by most mainstream handsfree kits. That way you could have a standard 3.5mm plug and use the headphones with any mobile device. Still, we can't blame Sony Ericsson for wanting to keep SensMe to its own users, at least initially; the MH907 headset isn't going to convert you to the company's cause, but it's an upgrade existing owners should definitely consider.